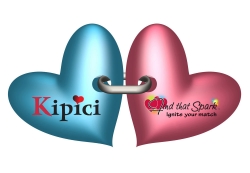 Miramichi, Canada, April 25, 2011 --(
PR.com
)-- Atwood Technology Inc., owner of the
www.Kipici.com
online dating site, has made its first match in both the world of online dating and in business. Having recently celebrated its first official couple on
www.Kipici.com
, the cyber dating company is now celebrating another special partnership - with companion St. John, New Brunswick based dating site www.FindThatSpark.com. Atwood Technology CEO Theresa Williams today extended a warm welcome to the founders of FindThatSpark.com, Terry Sznober and Joseph Sznober. "We are pleased to announce that Terry and Joseph have agreed to join us as partners and employees to take on the dating industry," Theresa said.
FindThatSpark.com will continue to exist, as will Terry and Joseph's company, Find That Spark Inc. However, the site will be converted to incorporate and use the Atwood White-Label Dating technology in the coming months and will be one of Atwood Technology's first customers.
"Using Atwood's semantic technology for matching singles is an ingenious concept. I truly believe other dating sites will see this as an added-value feature and adopt it," said Joseph, a market research analyst.
It was a big move for the brother team who spent years developing their idea and bringing it to market. Terry, who was employed as a software developer with Bell Aliant for 11 years, was excited about the opportunity to work full-time on what has become his vision for the future of online dating. However, he was also nervous about leaving the security of a large corporation to dive into a start-up organization. "After understanding what Atwood Technology was trying to create, I saw this as an awesome opportunity to use my background and experience to tackle the challenge and be part of this. It wasn't an easy decision to leave a great company like Bell Aliant," said Terry, a senior Web developer.
Terry and Joseph started with Atwood Technology on April 4th this year. "They have the passion and drive we were looking for to round out our team of experts (which include three PhDs) as we continue to build our technology. In addition, we need a solid team as we prepare to take on further opportunities following our nomination as a finalist for the KIRA Award for the Most-Promising Start-up, and our coveted invitation to meet the Dragons in the Dragons' Den on May 11th," Williams added.
###