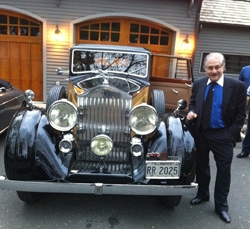 Stamford, CT, May 01, 2011 --(
PR.com
)-- It was a spectacular opening evening for the Pierce Ball Gallery's Art of the Car show on April 29, 2011. Visitors to the gallery were welcomed with a number of classic cars on the property for all to enjoy.
Two vintage Cadillac convertibles - one aqua with white interior and one white with red interior, compliments of George Holley of Norwalk, were the first to arrive. "People just love these cars. They are a favorite American classic," says George Holley.
The next classic to arrive was a 1935 Rolls Royce, compliments of M. S. Koly of Darien, in stunning condition. "The details in this car are fascinating. Sterling silver vanity set in the back seat, individual jacks for each tire, a trunk that is more beautiful than most fine cabinetry were just a few of the details that caught my eye," said Elizabeth P. Ball, director of the Pierce Ball Gallery.
Driving his A 1961 Porsche convertible, Charles England arrived next. "This car was originally sold for roughly the same price as one of these Cadillacs," said England.
Another American classic muscle car - a 1961 GTO, compliments of Tim Osborne of Norwalk, roared into the scene.
All of these vehicles set the stage for the artwork inside the gallery. Paintings by Ken Scaglia are studies in detail, whether the subject is the fine details of an engine or the reflections along side a classic Jaguar. John and Cassidy Olson's photography brings into focus the details of cars that are steeped in history. In addition, Steven Wallerstein's jewelry is also on display. His unique works in Sterling silver, brass and copper are works of wearable art and include necklaces, pendants, earrings and bracelets. What does the jewelry have to do with cars? According to Wallerstein, "…my jewelry looks great on when you are driving in a car!"
"The reaction of the public to this show has convinced me that I will to be doing more shows with the automobile as the subject. It appeals to everyone because they are such a part of the fabric of life. It is a treat to see the careful attention to detail in these works of art and the conversations that result from seeing them," said Ball.
The Association of Car Enthusiasts will be making the Pierce Ball Gallery one of their stops on the upcoming Saturday May 14th Road Tour of Lower Fairfield County. Expected to arrive just before noon, the gallery will open at 11am that day to welcome this group. They will be driving a wide variety of classic restored cars, with as many of 30 in attendance, weather permitting. The public is welcome to come and enjoy this stunning display of vehicles while they take in the Art of the Car show.
The Art of the Car show will be open Saturdays and Sundays, April 30, May 1, May 7, 8, 14, and 15th, from 1-5pm, except May 14, which will open at 11am. Throughout the show, there will be a variety of classic vehicles on the property and car enthusiasts are encouraged to bring their vehicles to be a part of this ongoing event.
The Pierce Ball Gallery is conveniently located right of exit 34 of the Merritt Parkway and accepts AmEx, MasterCard and Visa.
###