Hollywood Effects House Creates 15-Foot Long T. Rex for Santa Barbara Zoo Show "How to Train Your Dinosaur"
Chiodo Bros. hand makes a life-size, adolescent Tyrannosaurus Rex that runs, roars, snorts, blinks, growls… and even poops for a new stage show about how the Zoo cares for its animals. Family friendly shows start May 7 at the beautiful Santa Barbara Zoo, and are free with admission.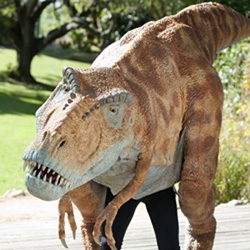 Santa Barbara, CA, May 07, 2011 --(
PR.com
)-- The Santa Barbara Zoo's newest resident is a life-size, adolescent Tyrannosaurus Rex that runs, roars, snorts, blinks, growls… and even poops.
Fifteen-feet from nose-to-tail and 7-feet tall, this amazingly life-like dinosaur, named "Duncan," was designed by the Chiodo Brothers, one of Hollywood's top creature shops. Duncan stars in the Zoo's new live stage show "How to Train Your Dinosaur," starting May 7, 2011. Show times are 11 a.m. and 3 p.m. weekends only through June 15. The schedule expands to Wednesdays through Sundays, same times, after that date.
During the family-friendly 15-minute lively presentation, the human hosts introduce the Zoo's new resident – a newly hatched T. Rex! Using Duncan, they attempt to demonstrate the special care received by the Zoo's animals – with hilarious results.
Just as keepers have trained the Zoo's gorillas to allow their teeth to be brushed, Duncan is given a chance to improve his oral hygiene. But it's going to take a lot of patience and positive reinforcement, just like with pets at home and the Zoo's animals, before he is trained. Audience volunteers are also "trained" in exchange for treats.
Improvisation by the human hosts, and by the performer inside Duncan, make for a lively, ever-changing performance for audiences of all ages. "How to Train Your Dinosaur" shows are held at the outdoor Rolling Hills Theatre and are free with Zoo admission. Audience seating is on a grassy hillside and there is no reserved seating. Visit www.sbzoo.org.
Quotes:
"Duncan is a perfect example of the evolution of an idea," said Zoo CEO Rich Block. "We wanted to give our guests a behind-the-scenes look at the ways we work with our animals, but in a fresh and focused way. Duncan adds a dimension of energy and focus that is tremendous fun."
"We can't bring the gorillas out every day and show their teeth getting brushed," continues Block. "But we can show Duncan getting the same positive reinforcement we use with the gorillas and other animals here at the Zoo. The fun part is – he learns anew every show, as does the audience."
The Making of a Dinosaur
Duncan was completely constructed by hand by Chiodo Bros. Productions, Inc. (see below). A backpack holds the lightweight aluminum frame that forms Duncan's skeleton. Foam was used to construct his muscles and tendons, which are covered by a "skin" of custom dyed fabric that was dyed, then hand-sewed on and custom painted.
"Anytime we can make a dinosaur, we're happy," says Edward Chiodo. "We love dinosaurs, and learn something every time we make one. This time, we learned about more about weight distribution through the way we had to counterbalance the tail to allow for the head movements."
The operator wears the backpack and have full control of Duncan's actions, including his head and jaw, and tail movements. Duncan's eye blinks are run by a computer program, and he poops from a preloaded cylinder controlled by the operator. A video monitor allows the operator to see ahead via images from a pinhole video camera located in the tip of Duncan's nose. The operator also wears a headset that allows him to make sounds through a voice synthesizer.
About Chiodo Bros. Productions, Inc.
Charles, Stephen and Edward Chiodo have spent over two decades establishing themselves as a highly creative, independent, production company with expertise in live action puppetry, stop-motion animation, prosthetics, make-up effects, special effects, costumes and production. Their goal is to "bring fantastic characters to life."
Chiodo Bros.' magic can also be seen in projects such as the recent Steve Carrel movie, Dinner for Schmucks; The Pee-wee Herman Show on Broadway; Matt Stone and Trey Parker's Team America: World Police; Spike Lee's Tales from the Hood; Elf with Will Ferrell; Screamers; Turbo: A Power Ranger Movie; Ernest Scared Stupid; Pee Wee's Big Adventure; Apt Pupil; Darkman; Robocop; Gremlins; Critters Parts 1, 2, 3 and 4; and Trail of the Screaming Forehead.
###
Contact
Santa Barbara Zoo
Julia McHugh
805-569-3303
www.sbzoo.org

Contact
Multimedia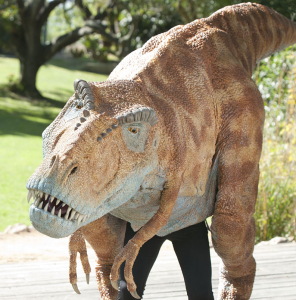 Duncan the T. Rex, created by a top Hollywood special effects house, stars in the Santa Barbara Zoo's new show "How to Train Your Dinosaur." Credit Tony Luna.