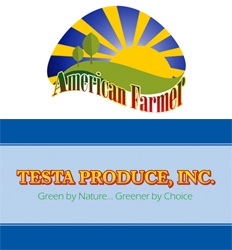 Chicago, IL, May 09, 2011 --(
PR.com
)-- Chicago-land's Testa Produce, Inc., a major distributor of domestic and international fresh, local, and organic fruits, vegetables, and dairy products as well as frozen and canned specialty items, announced that they will be featured on an upcoming episode of American Farmer.
The episode will introduce the company's new location, proposed to be Chicago's first LEED® Platinum Certified building and the first LEED® Platinum Refrigerated Food Service Distribution Facility in the nation. The state-of-the-art facility features a 750 kilowatt wind turbine; a 45,000 square foot barrel Green Roof; a 5000-gallon rain reclamation system; a 765,085 gallon rain retention pond; a solar hot water system for the entire building; and a myriad of other eco-friendly features.
The company hopes to serve as a positive role model not only for the agricultural and food production industries, but in general, as a business that truly lives up to its slogan: "Green by nature, Greener by choice." Founded in 1991, Testa Produce, originally known as Dominick Testa & Sons, is a family-owned and operated company started by the Testa family in 1912. The family has always had a strong desire for sustainability in their operation. Peter Testa, owner and successor of the company, wants business owners everywhere to understand that "going green" is easier and less expensive than they think, and more important now then ever.
"This facility has been in the making for years and now that it is up and running, my goal is that others in the industry will see the steps Testa Produce has taken towards sustainability as a challenge to do the same," states Peter Testa."
"We are delighted to share in the ribbon-cutting celebration for Testa's new green facility. Here at DMG Productions, we have a strong personal interest in environmentally-friendly practices that help provide for future generations," said Adrien Aniceto, producer for the series. "American Farmer will be shooting on location for this exciting event. We will have the opportunity to talk with Peter Testa himself as well as several industry experts.
About American Farmer:
American Farmer is a breakthrough program on a mission to showcase the latest advancements in agriculture and farming. From seed to harvest to food production, their producers have traveled the country covering the people, places, and issues impacting all areas of farm country. American Farmer is produced and distributed by DMG Productions, an award-winning content provider of educational programming to the television industry.
For more information visit: www.dmgproductions.org or call (866) 496-4065.
About Testa Produce:
Founded in 1912, Testa Produce, Inc. is Chicago's premier independent produce distributor. In addition to a broad line of domestic, local, organic, sustainable and imported fresh produce items, the company delivers frozen, canned, and specialty foods to fine restaurants, hotels and institutions in throughout Illinois and much of Wisconsin. Testa is a member of PRO*ACT, the foodservice industry's largest produce buying and marketing organization, and Legacy Food Service Alliance.
For more information, visit: http://www.testaproduce.com/testa or call (312) 226- 3237.
###