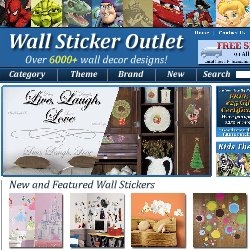 Holbrook, NY, May 18, 2011 --(
PR.com
)--
Wall Sticker Outlet
has launched version 2.0 of its popular wall decal and sticker website, with added features for enhanced shopping of peel-and-stick wall decor. The new site comes two and a half years after the launch of the initial Wall Sticker Outlet website, which has now seen more than five million visitors.
"We're thrilled," owner and president Aurelia McAleese said of the new site design. "The new website is so much easier to navigate, and offers several new room theme pages for children, baby nursery, and home decor."
Boys and girls decorating idea pages are now broken into sub-categories, each of these listing several different themes when it comes to wall decals and murals. Boys have options ranging from sports and superhero decals to dinosaurs and racing, while girls choices include princess stickers, fashion-themed murals, butterflies, flowers and more.
"We've also added a whole new section for home decor," McAleese adds. "Here visitors will find dozens of wall decorating ideas for living room, family room, kitchen and bath. We carry hundreds of stickers perfect for any living space, from elegant wall trees to peel-and-stick mirrors, sticker frames, scrolling patterns, and wall borders for the home. We also have a special section for holiday wall decals that can be taken down and re-used year after year."
Visitors to Wall Sticker Outlet's new website can now shop by designer as well. There are over 30 wall decal and mural brand names to choose from, accessible from horizontal drop-down menus.
"We found that people like to shop by artisan," McAleese explains. "They get into a particular wall decal style, and they want to see what else is available from that designer. And since we now carry more than six thousand different wall stickers, it's easy to find something for everyone."
The website offers kids wall decals, stickers, and peel-and-stick wall murals for every age range, as well as matching wallpaper, wall borders, and supplemental decal packages. Most designs are instantly removable and repositionable, making them safe for the walls of rentals or apartments.
Be sure to visit the Wall Sticker Outlet for over 6,000
childrens wall decals
, home decorating wall murals, and detailed theme room ideas for both.
###