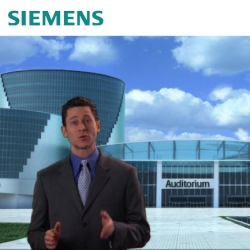 Campbell, CA, May 18, 2011 --(
PR.com
)-- IDG's Computerworld Honors Program has announced Siemens as a 2011 Laureate. The annual award program honors visionary applications of information technology promoting positive social, economic and educational change.
"The number and quality of nominations this year were very inspiring and demonstrate how valuable IT is to community change," said John Amato, Publisher, Computerworld. "Computerworld is very proud to name the 2011 class of Laureates and showcase their initiatives benefiting society through innovative uses of IT."
"Siemens developed and hosted a fully comprehensive virtual tradeshow utilizing virtual event-based technology from 6Connex. This pioneering event for the industry proved to be an extremely economic and efficient method for delivering a broad spectrum of ARRA Meaningful Use education to our customers," said Dave Rice, CIO at Siemens Healthcare, USA. "We're honored to be selected as a Laureate by Computerworld, as it underscores our commitment to innovation and education."
The Siemens "ARRA Virtual Conference: Driving from Meaningful to Exceptional" provided insights on how technology can help propel organizations to exceptional achievements in the delivery of healthcare services. In December 2009, the nation's healthcare industry received the much anticipated "meaningful use" criteria associated with the HITECH provisions of the American Recovery and Reinvestment Act which provides qualifying hospitals and healthcare providers an opportunity to receive a share of the $19 billion in federal stimulus funding to be paid out in the form of incentive dollars for successfully implementing and utilizing Electronic Health Records (EHR).
"We have worked with Siemens on a number of projects, but this award is incredibly gratifying for us," said Brian Lane, Vice President, Healthcare and Life Sciences for 6Connex. "We look forward to continuing to innovate with, and on behalf of, Siemens."
The Computerworld Honors awards will be presented at the Annual Laureates Medal Ceremony & Gala Awards on June 20, 2011 at the Andrew W. Mellon Auditorium in Washington, D.C.
About Computerworld Honors Program
Founded by International Data Group (IDG) in 1988, The Computerworld Honors Program is governed by the not-for-profit Computerworld Information Technology Awards Foundation. Computerworld Honors is the longest running global program to honor individuals and organizations that use information technology to promote positive social, economic and educational change. Additional information about the program and a Global Archive of past Laureate case studies and oral histories of Leadership Award recipients can be found at the Computerworld Honors website (http://events.computerworld.com/ Honors2011).
About Siemens Healthcare
The Siemens Healthcare Sector is one of the world's largest suppliers to the healthcare industry and a trendsetter in medical imaging, laboratory diagnostics, medical information technology and hearing aids. Siemens offers its customers products and solutions for the entire range of patient care from a single source – from prevention and early detection to diagnosis, and on to treatment and aftercare. By optimizing clinical workflows for the most common diseases, Siemens also makes healthcare faster, better and more cost-effective. Siemens Healthcare employs some 48,000 employees worldwide and operates around the world. For further information please visit: www.siemens.com/healthcare.
About 6Connex
6Connex is the pioneer of virtual experience technology marketing solutions. Our Virtual Experience Platform is online conference software that maximizes ROI through web conferences, online seminars, digital expos, virtual training and online presentations for external customers and prospects plus internal employees and partners. In addition to expanding reach and market presence via web presentations, it enables new virtual networking opportunities by combining advanced social collaboration with secure information delivery and distribution. 6Connex has developed award-winning, results-oriented virtual technology marketing solutions for industry leaders such as Cisco, HP, DuPont, Intel and Procter and Gamble. Visit
http://6connex.com/
for more information.
About Computerworld
Computerworld is the leading source of technology news and information for IT influencers worldwide, providing peer perspective, IT leadership and business results. Computerworld's award-winning Web site (http://www.computerworld.com), bi-weekly publication, focused conference series and custom research forms the hub of the world's largest (40+ edition) global IT media network. In the past five years alone, Computerworld has won more than 100 awards, including Magazine of the Year by American Society of Business Publication Editors (ASBPE) awards in 2010, the 2009 Best Blog from the Neal awards, and 2006 Best Overall Web Publication from ASBPE. Computerworld leads the industry with an online audience of over 3.5 million unique, monthly visitors (comScore Media Metrix, August 2010). Computerworld is published by IDG Enterprise, a subsidiary of International Data Group (IDG), the world's leading media, events, and research company. Company information is available at www.idgenterprise.com.
Note: All product and company names are trademarks of their respective companies.
###