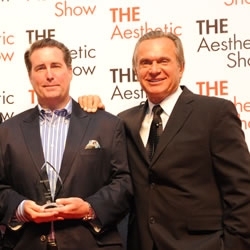 Center Valley, PA, June 08, 2011 --(
PR.com
)-- On June 4, 2011 Dr. Thomas E. Young of Young Medical Spa® in Center Valley, located in the Lehigh Valley area of Pennsylvania, received an award at the inaugural Aesthetic Awards™ at THE Aesthetic Show™ held at the ARIA Resort & Casino in Las Vegas, NV. The evening's event, hosted by Dr. Andrew Ordon of CBS's "The Doctors," recognized physicians in the aesthetic industry who performed the best patient enhancement procedures over the past year.
Dr. Young received this international award in the category of Best Overall Body Make-Over (combination of procedures) from before and after photographs submitted of one of his patients. Dr. Young stated to the audience that this particular patient was "featured in a year-long make-over campaign where she underwent a variety of procedures and shared her story and her progress with the Lehigh Valley." Dr. Young was talking about "The Jodi Project" which was a year-long advertising campaign exclusively featured in a local style and social magazine distributed to readers in the Allentown, Bethlehem, Easton and surrounding areas.
The procedures performed on Dr. Young's patient encompassed several medical aesthetic devices which predominately included the SlimLipo™ Body Sculpting Laser and the VelaShape™ device for reduction of cellulite. Additionally, the ZERONA™ low-level laser was used prior to the SlimLipo™ procedure, and the Body-Jet® water-assisted liposuction device was used to harvest fat which was then transferred into the patient's breasts for natural breast augmentation. Although all of these devices were used to obtain the aesthetic outcome to Dr. Young's patient, the latter two devices were not depicted in the submitted photographs for voting purposes.
THE Aesthetic Show™, which ran from June 3rd to the 5th, is the leading aesthetic medicine convention which brings together top experts from all over the world. The 2011 Aesthetic Awards™ was the first ever awards event of its kind honoring the finest achievements in all areas of aesthetic medicine both surgical and non-surgical.
All physicians who are either an attendee or a faculty member of THE Aesthetic Show™ were invited to submit before and after photographs of their best aesthetic procedures along with a brief description of the procedure and corresponding medical products or devices used to obtain their results.
Mr. Michael Moretti, Program Chairman of THE Aesthetic Show™ stated, "an awards ceremony like this has been long overdue for the aesthetic medicine industry, and we are thrilled to host the inaugural event at this year's THE Aesthetic Show™." Mr. Moretti continued to state that "the most esteemed practitioners in our field will be on hand for the show, so this is the perfect opportunity to honor those who have achieved greatness. These leaders both educate and inspire fellow attendees so that they may refine and enhance their own treatment skills."
About Thomas E. Young, M.D.
Thomas E. Young, M.D. is the Owner and Medical Director of Young Medical Spa®. He began performing SmartLipo™ soon after it's FDA approval and was the first physician to introduce awake tumescent laser liposuction to the Lehigh Valley and has extensive training from across the Country with the World's foremost leaders in body sculpting, fat transfer and stem cell procedures. Dr. Young is also one of the few physicians in the U.S. trained to perform Stem Cell Enhanced Natural Breast Augmentation and has his own State-of-the-Art Stem Cell Processing Lab.
Dr. Young also was the first physician to perform Vaser® Lipo, SlimLipo™, Stem Cell Enriched Fat Transfer Natural Breast Augmentation, Stem Cell Face Lift and the Brazilian Butt Lift in the region and trains other physicians in awake tumescent liposuction procedures. He performs approximately 25-40 procedures per month identifying him as the most experienced awake tumescent liposuction physician in the region. As of May 2011, he had performed over 1300 procedures and is a Speaker for the SlimLipo™ body sculpting laser.
Dr. Young is Double Board-Certified by the American Board of Internal Medicine, is a native of the Lehigh Valley, and has been practicing medicine in the Valley for over 20 years. He has extensive experience in injectable procedures and is a Platinum Provider for Botox® and a Premier Provider for Radiesse®.
He was most recently voted "Leading Aesthetic Physician" in the 2011 "Who's Who in Business" for the Lehigh Valley and was twice voted "Best Aesthetic Physician" by Lehigh Valley Magazine's "Best of the Valley" Readers Poll. He is a member of the American Academy of Cosmetic Surgery, American Academy of Cosmetic Physicians, American Medical Association, a Fellow of the American Society for Laser Medicine and Surgery, and other associations of importance.
About Young Medical Spa®
Young Medical Spa®, voted "One of the Top Ten Medical Spas in the U.S." by SpaFinder in 2009, provides the most effective aesthetic and skin care services available and strives to give their clients something extra that adds value, enjoyment and excitement to the overall medical spa experience.
Between the two locations, Young Medical Spa® provides the latest in cosmetic medical treatments including the Young hCG Physician-Supervised Weight Loss Diet, Stem Cell Enriched Fat Transfer Natural Breast Augmentation, Stem Cell Face Lift, Fat Transfer Brazilian Butt Lift, SmartLipo™, SlimLipo™, Vaser® Lipo, VelaShape™, Laser Hair Removal, Laser Vein Treatments, Sclerotherapy, ActiveFX™/DeepFX™/TotalFX™ CO2 Laser Skin Resurfacing, Lux1540™ Fractional™ Laser Skin Resurfacing, LuxDeepIR™ Fractional™ Infrared Skin Tightening, Hand Rejuvenation, IPL Photo Facial Rejuvenation, Botox®, Dysport®, Juvéderm™, Restylane®, Perlane®, Radiesse®, Facials, Medical Grade Chemical Peels, DiamondTip™ Microdermabrasion, and a full line of skin care products including Obagi, SkinCeuticals, Cosmedix, Results Rx, Glytone, Latisse® and others.
###