Handster Leads Android Independent Stores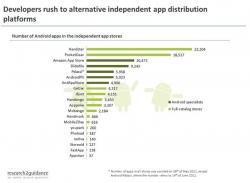 Buffallo Grove, IL, June 16, 2011 --(
PR.com
)-- According to the mobile research specialist Research2Guidance, Handster leads the independent stores for Android apps.
Handster managing 23,204 apps (including free and paid-for ones) is ahead of any independent Android store on the market.
Source: http://www.research2guidance.com/android-developers-head-for-alternative-distribution-platforms-as-android-market-offers-limited-business-potential-today/
As a full-catalog store Handster also distributes apps for Windows Mobile, BlackBerry, Symbian, Java and iPhone platforms. Smart phone and tablet users can access the store via a website, mobile web and an on-device clients.
The developer network of Handster consisting of 5,200+ developers from 57 countries provide up to 35,000 applications for the store. In addition, the company receives about 2,000-3,000 new titles each month now, with a fast growth to the Android platform.
Handster is known for its reputation as a reliable software distributor that selects and offers top-quality applications, and provides excellent service to its customers and partners. It is a fast growing and quickly operating channel powering the white label application store for HP, Toshiba and managing developer relations for LG. It also serves as an aggregated content provider for MTS, Ericsson, SKT, Huawei, Alcatel Lucent and number of other companies. All Handster apps are available for global international distribution.
Handster offers software developers stronger discoverability and promotion of their applications on AppStores belonging to their partners. Developers can register to publish apps on Handster and distribution network at:
http://www.handster.com/developers.php
.
Handster is actively looking for more partners among mobile operators and handset manufacturers to offer them a white label AppStore platform and aggregated content.
About Handster
Founded in 2004, Handster is a privately owned AppStore solution company with operations in the US, Germany and Ukraine, distributing smart phone applications through its partner network, the Company's B2C branded AppStore (Handster.com) and offering a scalable, highly flexible white label AppStore solution for mobile operators, handset manufacturers and distributors.
Sandra Ilyina
Company: Handster, Inc.
Email: sandra@handster.com
Phone: +1 650 743 8383
Fax: +1 866 626 9582
###
Contact
Handster Inc.
Victor Shaburov
+1 847 380 1551
www.handster.com

Contact