ALPCO Appoints CST China as Their Exclusive Distributor in China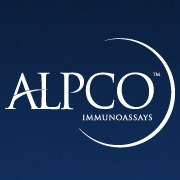 Salem, NH, June 23, 2011 --(
PR.com
)--
ALPCO
Diagnostics, a leading manufacturer and distributor of high quality immunoassay kits, is pleased to announce that they have appointed CST (Shanghai) Biological Reagents Company Ltd. (CST China) as their new distributor in China.
With
CST China
as their new distribution channel in China, ALPCO expects to increase brand recognition and further expand their position as a leading global producer of diabetes and obesity research products.
"We are very excited to have CST China as our exclusive distributor in China, Hong Kong and Macao," says Karen Stein, Vice President of Sales and Marketing at ALPCO Diagnostics. "CST China is highly regarded as a premier provider of gold standard signal transduction research products; including cancer biomarkers for basic research, personalized medicine, and clinical diagnostics. Their strong technical Sales and Marketing expertise coupled with a broad distribution network in the region, makes them an ideal partner to expand ALPCO's signature Diabetes and Obesity product line."
"Diabetes and obesity is one of the key research areas in China," says Jay Dong, General Manager of CST (Shanghai) Biological Reagents Company Ltd. (CST China), and General Manager of Asia Pacific region of Cell Signaling Technology, Inc. "In order to better serve our customers in this area, CST China is pleased to now be distributing ALPCO products. The addition of ALPCO products to CST China's superior product offering will allow us to offer a more comprehensive line of products and solutions to accelerate diabetes and obesity research."
About ALPCO
ALPCO (American Laboratory Products Company) offers a diverse line of assays that appeal to their broad customer base, along with providing outstanding customer service and fast-response product support. In recent years, ALPCO has solidified its place in the market as a developer of industry-leading immunoassays in the diabetes and obesity research field. The company's flagship line of beta cell secretion protein assays was enhanced in 2010 by the introduction of rodent specific assays for proinsulin and c-peptide.
About Cell Signaling Technology
Established in Beverly MA in 1999, Cell Signaling Technology (CST) is a privately owned company with over 350 employees worldwide. The company is dedicated to providing innovative research tools that are used to help define mechanisms underlying cell function and disease. Since its inception, CST has become the world leader in the production of the highest quality activation-state antibodies utilized to expand knowledge of cell signaling pathways. Aberrant signaling within these pathways has been implicated in various diseases including cancer, diabetes and neurodegenerative diseases.
About CST China
CST China, a wholly owned subsidiary of Cell Signaling Technology, Inc. USA (CST), was established in Shanghai in 2008, registered as CST (Shanghai) Biological Reagents Company Limited. With a full functional warehouse and distribution center and a dedicated professional team of technical support, marketing, Sales and logistics, CST China is committed to continuously improve delivery and customer service, as well as to provide best-in-class technical support and service to its customers in China.
###
Contact
ALPCO Diagnostics
Karen Stein
1-800-592-5726
www.alpco.com

Contact