Diamond Dealers Club of New York and TransGuardian Present US-India Development Plans to Consulate General of India and State Bank of India in New York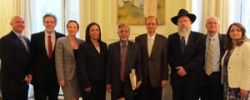 New York, NY, June 29, 2011 --(
PR.com
)-- Representatives of the
Diamond Dealers Club of New York (DDC)
and
TransGuardian
had top-level meetings today with the Consulate General of India and the State Bank of India (SBI) in New York.
The DDC, established in 1931, is the world's premier diamond exchange, located in the heart of New York's Diamond District on Fifth Avenue and 47th Street.
TransGuardian is a software innovator that delivers a wide range of game-changing solutions to the gem and jewelry industry, including optimum premium rates through Wells Fargo Insurance Services and exclusive discounts on US Postage, UPS, and FedEx.
Representing the DDC were Moshe Mosbacher, President, Basant Johari, Vice President and past-President of the Indian Diamond and Colorstone Association (IDCA), and Louis J. Rohde, DDC Director of Member Services.
Representing TransGuardian were Jim Moseley, President, Madlene Moseley, Executive Vice President and Rima Hagopian and Paul Freedman, Senior Account Managers.
Malini Shah, Chair of the Diamond Council, Indian National Overseas Council, and President of Difference, Inc., facilitated the meeting with the Honorable Pramod Bajaj, Indian Consul/Head of Chancery and Mr. Sujit Kumar Varma, CEO of SBI, Mr. Gopal Chakrapani, SBI Vice President and Head (Credit), and Lakshmi R. Srinivas, SBI Vice President (Credit).
Sheila Chaman, TV Special Correspondent and former Miss India, also assisted at the meetings.
The DDC presented the Consulate General of India with an official letter commemorating its history-making agreement for reciprocal membership with the IDCA. The DDC acts as an official arbitration board for its 1,800 members, with legal authority to issue judgments that may be enforced in civil court. The IDCA represents over 200 Indian-American businesses, whose influence in this industry, in which sixty percent of the goods consumed in the USA are of Indian origin, is key.
"Americans, Indians, Israelis, Belgians, Chinese, Koreans – many nations contribute to worldwide commerce in diamonds, colored stones, and jewelry," said Mr. Johari. "We want all communities – starting with those in America and India – to use their collective influence to enhance market conditions. Working together, we can drive supply chain costs down, make payments fully secure, and expand markets for all."
"Our software streamlines trade for small businesses by giving them supply-chain tools that formerly were available only to large companies willing to invest heavily in them," said Mrs. Moseley. "This means young people wanting to enter the industry in India and the USA can gain easier access to all its opportunities."
"And the DDC offers special memberships to graduates of the Gemological Institute of America (GIA), many of whom are Indian nationals," added Mr. Rohde. "This provides the next generation with unique opportunities to get their first practical experience in the US market."
"India has developed into a phenomenal producer in our industry," said Mr. Mosbacher. "And that success has also made it a powerful consuming nation. The DDC wants to use innovative solutions, like TransGuardian's logistics software and the DDC's Bonded Web Trading, to make it as feasible for a seller in New York to connect with a buyer in Hyderabad as it is for a seller in Surat to connect with a consumer in Nebraska."
"Thanks to key innovations and relationships, like our Business Alliance Partnership with the US Postal Service, we have in our hands, for the first time, solutions that truly can make the whole planet next-door neighbors," said Mr. Moseley.
"The time is ripe," said Ms. Shah, "To bring all this potential to life. We're helping the DDC and TransGuardian reach out to high-level Indian politicians and business people. We want to support their plans to enhance opportunities for Indian-American cooperation and growth in the gem and jewelry trade."
"We definitely will be glad to receive your proposals and assist in connecting you to the appropriate officials in the Government of India," said Mr. Bajaj.
"You have a timely vision for one of India's most important sectors," said Mr. Varma, "and we look forward to participating in your next steps."
###
Contact
TransGuardian, Inc.
Madlene Moseley
(877) 570-SHIP (7447)
www.transguardian.com

Contact