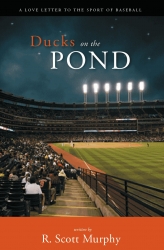 Austin, TX, July 05, 2011 --(
PR.com
)-- No sport's big-play vernacular is more creative and fun than baseball's home run calls. They range from signature sendoffs from famous announcers like John Sterling of the New York Yankees and Vin Scully of the Los Angeles Dodgers, to Little League lexicon. Major League Baseball celebrates the home run this week with its annual Home Run Derby. Award-winning writer R. Scott Murphy has created the ultimate collection of nearly 1,000 home run terms, called "The Home Run Alphabet." The collection is the centerpiece of Murphy's popular new book "Ducks on the Pond." Baseball and pop culture fans are using "The Home Run Alphabet" to liven up their longball lingo. Recently featured on "The Mark Reardon Show" on KMOX radio in St. Louis, and the nationally syndicated Sandlot Radio Network, the book is being described as a "masterful mashup of sport, youth and nostalgia."
Early fan favorite home run terms include "screaming dot," "seat pizza," "aces wood shop," "omelet of tasty runs," "howitzer," "fountain-friendly," "smack my pitch up," "makes the pretty girls wiggle," and "phat flight."
Murphy, a four-time winner of the Late Show With David Letterman Top 10 List Contest, has a master's degree from the University of Missouri School of Journalism. He won the prestigious Remi Award for his film script "Roxanne: Queen of Pain," and is a former radio and television sportscaster. Murphy describes his writing style as a "Storyteller Mashup" style that blends "Cultural Literacy" with "Schoolhouse Rock."
Murphy tweets a new home run term each day @MentalKickball on Twitter. His official website is
www.officialmidnitewriter.com
. The book can be ordered through his website or through online book sellers such as Amazon, Barnes & Noble and Lulu. The paperback ISBN is 978-1-257-09519-3. The hardcover ISBN is 978-1-257-09518-6.
###