Geosemble Debuts New Geographic Content Search & Discovery Software
New functionality for Geosemble's geographic content discovery software delivers knowledge and insight about geographic places for Government and commercial users.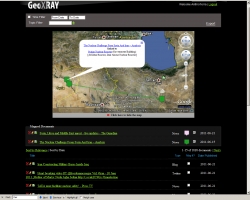 El Segundo, CA, July 08, 2011 --(
PR.com
)-- Geosemble Technologies has debuted the newest release of its GeoXray™ geographic content discovery tool, demonstrating how efficient integration and visualization of knowledge from across the global internet can benefit users with commercial and government needs.
Released on Monday, the newest version of GeoXray™ 2.6 boasts some important new capabilities, including the ability to switch between a map view and a content view of a geographic area, as well as a more efficient time filtering and keyword filtering interface. With this release, GeoXray™ allows users to effortlessly monitor geographic areas for information that matches their topics of interest. This capability benefits business users who may be monitoring competition, supply chain activity or business opportunities in a county, neighborhood or border region. For governments at the city, local and Federal levels it brings the ability to visualize activity in a given area filtered by topic, time and location.
"GeoXray™ works differently in two important ways," said Andre Doumitt, Geosemble CEO. "With our technical approach we first start with locations of interest and work to understand that terrain in terms of who and what is there, so that we can deliver whatever information is available about that place from websites, blogs, tweets and other social media automatically and accurately," he said.
"The second, part of our approach involves leveraging keyword matching algorithms which are similar to what the major search engines use. This makes the system highly scaleable and language neutral since a keyword is a keyword in any language," he said. "As a result, GeoXray scales well and avoids complex, resource-intensive Natural Language Processing where rules change in each language and scaling becomes challenging," he said. "Further, the newest version of GeoXray™ allows users to load in their topic and timeframe preferences and use that preset filter to 'geobrowse' across the map to discover content of interest in specific locations and regions, delivering utility to a broad range of users."
"In effect, you're kind of vacuuming up specific types of information in areas that you are interested in so that you can be the first to act," said Steve Lutton, Geosemble VP for Government programs. "For business users this can mean being the first to know about a news sales opportunity in your territory, or a threat from a competitor moving in. For government users, it delivers a clear picture of activity from across the internet that relates to a given area. Basically, forewarned is forearmed," he said.
GeoXray™ 2.6 is a software product that spatially enables unstructured text from the internet and other sources so that viewers can geographically "see" what's related to a particular area of interest, either in a map view or as a list of textual content. Integrating news, blogs and tweets, the system gives users a "triple filter" of sorting by location, by topic and by time so that users can start with a place they care about and learn about things they're interested in. The output of GeoXray™ can be viewed in its own native GeoXray™ viewer or tapped via an API and displayed on a variety of systems.
About Geosemble Technologies, Inc.
Geosemble's products help organizations search, discover and manage text information geographically. The company's flagship product, GeoXray™, links unstructured content to locations. The output of GeoXray™ can be tapped via an API and displayed on a variety of systems or in its own native GeoXray™ viewer. Uses for the product include Government and Military programs, municipal redevelopment, Business Intelligence, Enterprise Search, and geographic content delivery for mobile phone users. The company is an In-Q-Tel portfolio company, a DARPA SBIR Phase II contractor, a strategic Google® Earth Enterprise Partner, and a developer in the Oracle® PartnerNetwork,. Geosemble Technologies, Inc. is privately held. Learn more at http://www.geosemble.com.
For further information please contact:
Press Relations
Geosemble Technologies Inc.
841 Apollo Dr. Suite 400
El Segundo CA 90245
310-356 8307 x 7001
Inquiry [at] Geosemble dot com
###
Contact
Geosemble Technologies
Andre Doumitt
310 356 8307 x 7001
www.geosemble.com

Contact