Like a Great Marriage, the Gift of Wine Gets Better with Age
Wine always makes a great gift, but a new product from Wineforawedding.com allows customers to turn it into a uniquely personal wedding gift that celebrates the recipients' anniversaries for years to come.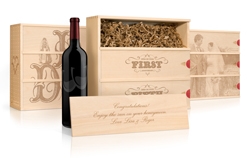 St. Louis, MO, July 22, 2011 --(
PR.com
)-- We've all been there. You want to give a great gift to that special couple but all the good stuff on the registry is long gone. Left with the option of another place setting or a set of overpriced guest towels you ponder an alternative. Something off the registry perhaps? A risky endeavor, but a new website, www.wineforawedding.com offers something the wine loving couple is sure to adore.
Wine for a Wedding's unique line of customizable wine boxes allow you to toast the newlyweds on their honeymoon, one-year, five-year or even 10-year anniversary. These intricately engraved and artistic wine boxes are designed to reveal one bottle at a time, on progressive anniversaries. Each foil-sealed lid features a "when to open" anniversary on the outside and your personal, engraved message to the couple hidden on the inside - to be shared with a bottle of fine wine.
Not sure what wine you should put in the box to age? No problem. Through a new partnership, Wine for a Wedding boxes can now be shipped direct to recipients, packed with award-winning, preselected wine packages from the vintners of Mt Pleasant Estates in Augusta, Missouri.
Gifts this easy and personal are few and far between, and the couple will anticipate and cherish it for years to come. You can rest well knowing that long after they have outgrown the window treatments they registered for, they will be sharing a perfectly aged Augusta Port with a toast from you.
Wine for a Wedding products can be viewed and purchased online exclusively through the company's Web site:
www.wineforawedding.com
.
###
Contact
Wine for a Wedding
Marc Stitzlein
1-855-933-9463
www.wineforawedding.com

Contact