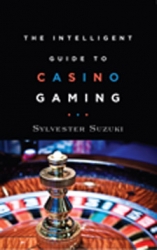 Baltimore, MD, July 22, 2011 --(
PR.com
)-- Intelligent Games Publishing has released paperback and ebook editions of a new book by Sylvester Suzuki -- "The Intelligent Guide to Casino Gaming." It identifies the best bets available for the most popular table games offered at casinos.
Many casino visitors want to play table games but fear looking foolish. Others are having fun, but they are confused by the mysterious rules and frenetic action. They worry about holding up the game to ask questions, or losing money on plays that onlookers will know are bad.
It is difficult to learn table games. Casinos provide little instruction. Most books on gaming describe betting systems that are overly complex and project results that are not believable. Friends have methods for playing that are based more on superstition than real knowledge.
Imagine a trustworthy guide to casino gaming with explanations of all the popular table games. The rules and methods of play for each game are clearly stated. The strategies are explained and concisely summarized. In little time a gambler would be able to learn any of the games and play with confidence.
Sylvester Suzuki wrote "The Intelligent Guide to Casino Gaming" to help casino goers at any level of expertise join the action. Suzuki reveals that casino table games are much simpler than they appear. The table games also offer some of the best bets in the casino. According to Suzuki, after reading his book: "You'll be able to enjoy more, lose less, and have a reasonable expectation of sometimes leaving the casino with more money in your pocket than when you entered."
In "The Intelligent Guide to Casino Gaming," Sylvester Suzuki explains baccarat, blackjack, craps, roulette, pai gow poker, Caribbean Stud, video poker, keno, and slot machines. He also explains the fundamentals of betting on horse races, sports, and poker. The book has a foreword by bestselling poker author Sam Braids.
Readers will be surprised to discover from the book that the house edge on the bewildering choice of bets offered varies considerably. By learning the optimal betting strategies, casino patrons can enjoy all the games offered while avoiding the sucker plays that line the pockets of the casino. The book provides a summary at the end of the best bets to make in a casino and the bets that should always be avoided.
"The Intelligent Guide to Casino Gaming" is available in paperback from major book retailers. The ebook is available online in formats compatible with all popular ereader models. To learn more about the book, read excerpts and place an order, visit
http://www.IntelligentCasinoGaming.com
.
Intelligent Games Publishing is a publisher of high-quality books, ebooks and Websites on poker and casino gaming. Sylvester Suzuki, a 1959 graduate of the University of Washington, spent a 25-year career as a civilian administrative officer with several Department of Defense agencies, mostly overseas. Since his retirement in 1984, he has been a regular at poker and other gaming tables, primarily in the casinos of California and Nevada. He previously authored the book: "Poker Tournament Strategies."
###