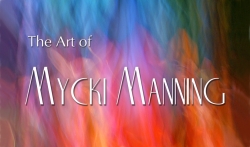 Las Vegas, NV, July 30, 2011 --(
PR.com
)-- Mundo Express Cafe Presents Vegas Salon de' Artiste
Works of Art by Vegas' Finest Artists
Produced by N' Light Entertainment
Curated by Mycki Manning
A variety of artwork by some of Vegas Top Artists will be presented in a salon style gallery setting. The 50,000+ attendees to the World Market Center Event can enjoy the fine latin chic cuisine presented by Mundo Express Cafe while lounging in an atmosphere filled with works of art in many styles & genres from cubism to contemporary.
Artists featured are: Saint Ziggy, Jennifer Main, Mycki Manning, Niki Sands, Carlos De Las Heras, Steve Connolly (aka Elvis), Gin and Sake, Sharon Larson, and more.
They have created an Artists Reception that will be open to the public & press on Sunday, July 31, 2011 from 3pm-6pm. This is the opportunity for friends, fans and the media to meet the artists and appreciate their brilliant works of art. They are excited to have the talented Ned Mills aka Lionardo playing jazz on keyboard and trumpet for ambiance at the reception. Mundo Express Cafe will not be serving food during the artists reception on Sunday. However, hors d'oeuvres and wine will be provided.
Women in Business are celebrated in this collaboration by participating female company owners: Kystal Legee of N'Light Entertainment, Mycki Manning of The Art of Mycki Manning, Jennifer Main of Jennifer Main Gallery, and Niki Sands of Niki J. Sands Contemporary Fine Art.
Mundo Express Cafe is located in:
Building C, Space 0396
495 S. Grand Central Pkwy
Las Vegas, NV 89106
For any questions about the artists of Vegas Salon de' Artiste, contact:
Mycki Manning, Curator
art@myckimanning.com
To learn more about this event, please visit:
www.TheArtofMyckiManning.com
(Market is closed to the public, but available to national and international badge holders during August 1 - 5, 2011 from 9am - 6pm. For badge information: info@wmclv.co)
###