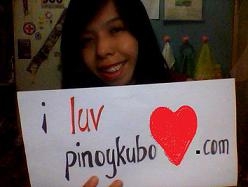 Manila, Philippines, August 09, 2011 --(
PR.com
)-- Astraqom, a world leading provider of online community platforms leveraging IP communications, announced on August 2, 2011, the official launch of the social network PinoyKubo. The platform, began in beta form in mid 2011, and in just three months, has over 50,000 friendships. The popular online community's audience, membership, and market include Filipina and Filipino expatriates, business people and students who are in the Philippines as well as abroad. It also is popular with those who are in a position to develop business with those in the Philippines and those who wish to learn Tagalog and/or just be immersed in the exciting Philippines world culture.
"'Tuloy po kayo sa PinoyKubo' means more than just a 'Welcome to PinoyKubo'.' To the PinoyKubo socialite and developer team, it represents the many hours of work dedicated to building our unique social media site. It is a reminder of how very multi-talented, colorful, bright and stimulating the people, architecture, music, business, games, movies, books, schools, science and more are to the world. We want to share opportunities with others to collaborate in entrepreneurship, entertainment, arts and other areas via PinoyKubo," stated Jonathan Sowah, founder of PinoyKubo.
A key part of the mission of PinoyKubo is to power up all involved with a combination of technology and the unique culture of the people of The Philippines. It is a unique harmony that provides more than just a basic social media encounter. It is a celebration of the strong social bonds that are evident among friends and family among and with The Philippines people.
PinoyKubo aims to build a robust social platform with goals of boosting its participants to fulfill short and long term social and entrepreneurial goals with the social media site's features and tools. The PinoyKubo Team realize the universal needs of success in people's lives, beginning with the most important:
1) Make friends to collaborate with.
2) Be appreciated for one's talents, accomplishments and abilities.
3) Discover and employ new methods and tools to reach social and business (also may be entrepreneurial and financial) goals.
"Pinoy Kubo is cool! We just can't simply underestimate the skills and capabilities of Filipinos. The PinoyKubo site is another reason why we should be proud to be Filipinos. In Pinoy Kubo, we will be able to meet friends, keep in touch with them, and share anything with them. I hope this will be a big success. I have some suggestions for additions and changes with the developer and social team to make it feel more original and Filipino/Filipina. More power and God bless, Pinoy Kubo," shared Llot Lee, a new collaborator on PinoyKubo.
"Businesses and other organizations can elicit immeasurable opportunities that differentiate them from others by being seen as a champion of PinoyKubo in the eyes of its loyal global community. These groups can get involved via sponsorships, ads, partnering options, and special events, and be an important part of 2011 and future image and branding. The supporting groups will increase a positive social image among this exponentially increasing number of focused global users. Companies who are successful in social media are more likely to be the choice of where consumers choose to spend their money," added Suzanne Bowen, vice president of marketing and business development for PinoyKubo. "Some organizations who are already taking part or who have been discussed as a very important vendor or purveyor of services or products on PinoyKubo or by PinoyKubo members are Astraqom, Manuel S. Enverga University, Virtual Phone Line, Globe Telecom, Smart Communications, and Sun Cellular."
PinoyKubo asks for suggestions of how to improve the user experience and suggstions of interesting Filipinas and Filipinos in the Philippines and abroad who its Team can interview for its Inspirational Heroes Project at info@pinoykuboworld.com. Plans are in place for PinoyKubo users' virtual stores where they can buy and sell with each other via Paypal, a comprehensive game archive with over 14,000 different games and activities, and other social-oriented and fun activities available. More information will be shared in future press releases.
About PinoyKubo
Founded in mid-2011, PinoyKubo (pinoykubo.com) offers the world of Filipinas and Filipinos and those who are most likely to benefit in doing business and socially with the same globally, a fast-growing successful platform and community online. A wholly owned subsidiary of AstraQom Corporation, also of Canada, PinoyKubo is a communications solutions provider committed to the developed and provision of innovative social media avenues targeting the Filipino community in The Philippines and abroad. As a company, we are committed to the individual who counts on us for the most appropriate blend of the rich Filipino culture and the technology of social media located at www.pinoykubo.com. Contact press@pinoykuboworld.com or sponsorships@pinoykuboworld.com for media, sponsorship and advertising, and press partnerships and opportunities.
###