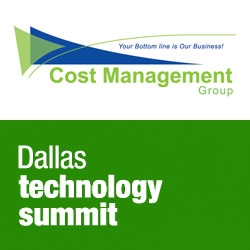 Atlanta, GA, August 11, 2011 --(
PR.com
)-- Cost Management Group to host the Dallas Technology Summit, featuring cloud executives from some of the most respected companies, to be held on Thursday, August 25th, with a 2:00 pm registration, at the Hilton DFW Lakes Hotel.
This is the third event of the 2011 Cloud Summit Series, with previous events in Miami and Atlanta, and is co-sponsored by CISCO and Savvis Communications.
The event is free to attendees and will include complimentary network cocktail party and access to the Quarterfinal round of the Texas Tennis Open, the WTA professional woman's event to be held at the same venue that evening.
Their Executive Panel and Keynote speakers will be taking on Security & SLAs in an Era of Cloud Computing.
"Enterprise Cloud is at a crossroads. We have a revolutionary idea (the Cloud), projected to become a $240 Billion industry by 2020, but there is still much confusion between enterprise cloud consumers and the suppliers, mostly around privacy, security and legal liability," says Remington Reynolds, Summit Host and Chair.
"We want the Summit to take on these important topics with the goal of helping consumers and enterprises better understand the rules of the road and potential risks of putting sensitive data in the cloud (public or private) without a strong Service Level Agreement and encryption.
Just in April alone we've seen some costly public and private cloud data exposures, as in the cases of Dropbox, and the PlayStation Network. There will be more this year. "
About the Dallas Technology Summit
www.dallastechnologysummit.com
About Cost Management Group
www.costmg.com
Cost Management Group helps client companies reduce costs, increase value, and shorten the process of procuring, implementing and managing best-in-class Telecom, Cloud and Contact Center products and services.
CMG Consultants bring together supplier benchmarking data, proven problem-solving methodologies and deep experience to either reduce TCO or attain the highest ROI. CMG Services:
Contact Center
Advisory, Procurement, Supplier Benchmarking
Telecom
Audit & Assurance, Invoice Management, Inventory Management, Procurement, Wireless Management
Cloud Services
Advisory, Procurement, Supplier Benchmarking
###