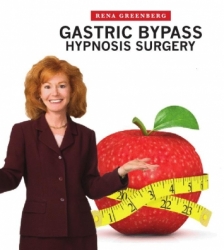 Sarasota, FL, August 16, 2011 --(
PR.com
)-- Gastric bypass hypnosis surgery simulates an actual surgery while a person is in the hypnotic state. Because a person believes they had a real surgery and that their stomach is physically smaller, they are then able to lose weight. The hypnosis surgery has become increasingly popular in the United States and in Europe as an alternative to physical surgery since there are no side effects, no risks, no recovery time and the cost is relatively minimal.
Greenberg, CEO of Wellness Seminars, Inc. has helped over 100,000 people to lose weight for over twenty years. Her hypnosis weight loss system has been reviewed and sponsored by more than 75 hospitals throughout the United States and has been offered to the employees of over 100 governments and corporations including Walt Disney World and Home Depot.
"I am so excited to now be offering my
gastric bypass hypnosis surgery
program to more people with an at home gastric bypass hypnosis system on cd. I've seen so many wonderful results that I wanted to make the virtual surgery affordable and available for anyone who wants to lose weight," Greenberg stated.
Debbie Mainger was interviewed on ABC-TV Action News after successfully undergoing Greenberg's Gastric Bypass Hypnosis Surgery and losing more than 30 lbs. "I used to drink soda every day, but since Rena's hypnosis, soda is disgusting to me. I haven't had a soda since the gastric bypass hypnosis surgery. I'm eating healthier and I feel good. The whole experience has been amazing – I even tasted the anesthesia! I listen to Rena's self-hypnosis cds for reinforcement and my eating habits have completely changed."
Rena Greenberg's method, which is typically four sessions is now available as an at-home program. The at-home system consists of four cds, where Rena guides people through the actual hypnosis surgery experience. She also gives pre and post surgery instructions and provides follow-up reinforcement (including additional hypnosis sessions and affirmations specific to Gastric Bypass Hypnosis Surgery) to insure success. For more information visit: http//www.easywillpower.com
The program includes Rena Greenberg's book: The Right Weigh: Six Steps to Permanent Weight Loss (Hay House Publishing), a bonus Walking Affirmation CD, plus a valuable discount coupon towards in-person personalized gastric bypass hypnosis with Rena Greenberg.
"Hypnosis is a state of deep relaxation and focused concentration. In this state the subconscious mind is more available to accept new images and suggestions," states Greenberg. "In the hypnotic state, a person is in complete control and fully aware. Hypnosis is a wonderful tool to create positive habits such as preferring healthier foods and eating smaller portions, without feeling deprived or denied, because the subconscious pleasurable associations with the wrong foods can be broken."
Rena Greenberg is a nationally certified hypnosis trainer from the National Guild of Hypnotists, an NLP Trainer from the NFNLP Institute and the Author of The Right Weigh (Hay House) and The Craving Cure (McGraw Hill). She holds a degree in BioPsychology from Brooklyn College and is a nationally Board Certified Biofeedback Therapist. Greenberg's successful weight loss approach has been featured on ABC-TV, CBS-TV, NBC-TV, FOX-TV, Women's World Magazine, and over 100 newspaper and television stories, which can be viewed at http://www.EasyWillpower.com
View successful 42 lb. weight loss after Gastric Bypass Hypnosis Surgery with Rena Greenberg:
http://www.youtube.com/watch?v=Hcar22cMquo
###