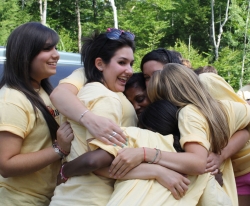 New York, NY, August 15, 2011 --(
PR.com
)-- Today, 40 New York City children and teens with lupus and their families converged at Camp Sunshine for Lupus Week hosted by the S.L.E. Lupus Foundation. Located on Lake Sebago in Maine, Camp Sunshine offers the only program in the nation to address the impact of a life threatening illness on every member of the immediate family.
The S.L.E. Lupus Foundation raises private funds to send families most in need to Camp Sunshine each summer. Throughout the week, kids run, swim and play with others in their age group and families attend support groups and discussion sessions, meeting others facing similar challenges.
"Camp Sunshine helped me see that I am not the only one dealing with lupus. I wait all year for the chance to spend one week with other kids who understand what it's like to be overwhelmed with pain and fatigue every day," said camp attendee Christopher Peguero. "Lupus caused me to build barriers with people in my life, but my time at camp has helped me break those barriers down. It's made me want to open up about my struggles and help others in the same way."
Systemic lupus erythematosus (SLE) or lupus, one of the least recognized major diseases, is a chronic and potentially fatal autoimmune disorder affecting more than 1.5 million Americans. Approximately 20 percent of people with lupus are diagnosed before the age of 20. In lupus, the body's immune system forms antibodies that can attack virtually any healthy organ or tissue. The disease can affect children's physical, psychological and intellectual development. Children and adolescents with lupus are two to three times more likely to develop kidney, neurological and hematologic complications. Many live with unpleasant side effects of the only treatments currently available that are often as toxic as the disease itself.
"Children with lupus spend each and every day fighting for their health," said S.L.E. Executive Director Margaret Dowd. "We send kids and their families to Camp Sunshine for a week of respite with others who understand their struggle as no one else can. The most important lesson we hope children and families gain from their experience at Camp Sunshine is that they are not alone."
The S.L.E. Lupus Foundation is the country's preeminent organization delivering direct patient services, public education and novel research at a national level. Founded 40 years ago in New York City by lupus patients and their families as the first nonprofit to serve the lupus community, it remains the cornerstone of comprehensive care in all five boroughs in the continuous battle for a Life Without Lupus.
Event information: Lupus Week at Camp Sunshine is August 14-August 19, 2011. For additional event information, please visit lupusny.org/programs/kids. For information on Camp Sunshine, visit campsunshine.org.
Founded in 1970, the S.L.E. Lupus Foundation helps people with lupus and their families and friends to cope with the anxieties and confusion that accompany daily living with a complex and dangerous chronic illness. Through public service campaigns, public education programs and community outreach, the Foundation promotes early diagnosis of lupus and provides support especially in disadvantaged neighborhoods of New York City and Los Angeles. The S.L.E. Lupus Foundation funds lupus research grants and fellowship awards for new investigators in the New York Region and in Southern California, and in partnership with the Lupus Research Institute, supports innovative novel research nationwide. For more information about S.L.E. Foundation, visit
www.lupusny.org
.
###