Internet Music Sensation Announces Google+ Hangout Concert with YouTube Live Integration and Free, Exclusive "Google Song" Download
Become a Part of the Global Community that Launched the First Google+ Music Star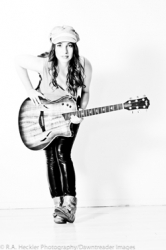 Fairfield County, CT, August 16, 2011 --(
PR.com
)-- Breakout Internet music star Daria Musk will continue to push the boundaries of Google+ Hangout technology with her next highly anticipated performance, announcing today that Concert 3 on Saturday, Aug. 20 at 6 p.m. (EST) will feature embeddable YouTube Live video players streaming her concert live. These video players can be displayed anywhere—even in a Google+ stream—allowing fans around the world to simulcast the show from their websites, blogs and social networking platforms. It's the latest evolution of an idea that began with an intimate, "storytellers-style" concert for 10 guests in a Google+ Hangout, exploded spontaneously into an ad-libbed audience of thousands and continued with a follow-up concert that lasted 7.5 hours and reached more than 9,000 new global fans across 100 countries (through a live broadcast of the Hangout to an external website where unlimited people could watch Musk perform).
Since Musk's first two marathon Google+ performances (lasting 6.5 hours and 7.5 hours respectively), she has been featured in news, tech and music feature stories about her rapid rise, has been booked as a guest speaker/performer at music and tech conferences and has solidified a brand and global music following. Her live two-song preview on Aug. 7, which was designed as a YouTube Live streaming test, was watched live by 7,800 fans despite only five minutes notice that the sound check would take place. Since hinting that her first digital music singles would be available for download during Concert 3, Musk has been inundated with requests and enthusiasm that her music will finally be available beyond YouTube clips and non-downloadable streaming audio. Musk's song "+1 Me," which chronicles her amazing Google+ experiences, will be a free download as a "thank you" to the Google+ community that helped make her known worldwide. Additionally, her first single, "You Move Me," will be available as a 99-cent download. "You Move Me" was selected by popular request from the fans themselves to be the first single after a particularly memorable scene during a Google+ Hangout concert where two Australian children could be seen literally dancing in the street to the song as Musk performed.
Prior to performing on Google+, the singer/songwriter was a virtual unknown performing small shows out of the NY Metro Area. Musk was "discovered" globally in one night through her first social network performance, something almost unheard of in the music industry. Through her Hangout concerts, Musk has established a new standard for artist-fan communication, magically combining what feels like a private show full of interaction for 10 close friends with a traditional performance reaching thousands who can watch and enjoy.
For more information about Concert 3 and Daria Musk, visit www.dariamusk.com.
Daria Musk on social media:
Google+: http://tiny.cc/gplusdaria
Videos: www.youtube.com/dariamusk
Facebook: www.listn.to/dariamusk
Twitter: www.twitter.com/dariamusk
###
Contact
Richter Communications
Lee Richter, Publicist
(510) 594-0828
www.dariamusk.com

Contact