Fresh Results, LLC to be Featured on Upcoming Episode of DMG's American Farmer TV Series
Supplying the U.S. with Year-Round Blueberry Production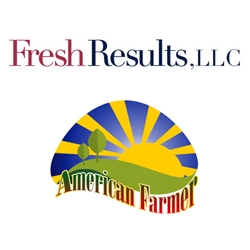 Sunrise, FL, September 14, 2011 --(
PR.com
)-- Fresh Results, LLC, is pleased to announce their participation in the American Farmer series, due to air this Fall 2011. Dates and show times to be announced.
Fresh Results is one of the largest blueberry marketers in the world. They have been a preferred vendor for some of the top retailers in North America for more than 10 years.
With their farm in Argentina being the largest single producer of blueberries in the Southern Hemisphere, Fresh Results is responsible for nearly 20% of all the fresh blueberries arriving to the U.S. from September to mid-December.
This episode is dedicated entirely to one of natures near perfect foods, the blueberry. The episode will highlight the popular berry's health and nutritional benefits. To better understand what goes into blueberry production, American Farmer will travel to Fresh Result's farm in Argentina. Here, we will explore hot topics such as: vertical integration, genetic modification, food safety, and meeting year-round global food demands.
"Fresh Results is engaged in an ongoing effort to publicize the incredible health benefits, year round availability and extensive ways to consume this super fruit to a global audience," said Eric Crawford, President of Fresh Results, LLC.
"Our nation is very confused when it comes to nutrition, but really, it just comes down to the basics. You simply cannot go wrong with fresh fruit and vegetables," said Shirley White, producer for the series. "We are excited to share Fresh Result's story. Teeming with antioxidants and nutrition, anyone could benefit from eating a daily handful. Fresh Results makes that possible with year-round production."
About American Farmer:
American Farmer is a breakthrough program on a mission to showcase the latest advancements in agriculture and farming. From seed to harvest to food production, their producers have traveled the country covering the people, places, and issues impacting all areas of farm country. American Farmer is produced and distributed by DMG Productions, an award-winning content provider of educational programming to the television industry.
For more information visit: www.dmgproductions.org or call (866) 496-4065.
About Fresh Results:
Fresh Results is an entity concerned with the socio-economical sustainability of this industry. It is intent on delivering the healthiest and most flavorful products to the global population while maintaining the highest standards of ethical behavior. Our farms employee thousands of people that would otherwise have no means of economic survival or independence. We provide health care, food and education in an area of the world that was struggling before our existence. We are very proud of our relationship with our community and always strive to find more ways to be of assistance.
For more information, visit: http://www.freshresultsllc.com/ or call (954) 446-6566.
###
Contact
Fresh Results, LLC
Eric Crawford
954-734-4355
www.freshresultsllc.com

Contact