Expand, Engage, and Lead at the 3rd Annual "A-Ha!" NH Social Media Business Summit
Epiphanies, Inc., in collaboration with the NH Division of Economic Development, will host the 3rd Annual "A-Ha!" NH Social Media Business Summit on Thursday, October 27th, 2011. Gunstock Mountain Resort in Gilford is this year's Venue Partner, and their main lodge will serve as the collaborative learning space for entrepreneurs, passionate professionals, trailblazers, dreamers, and biz dynamos from across the Granite State.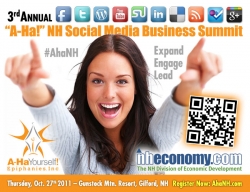 Gilford, NH, September 23, 2011 --(
PR.com
)-- The word is in and the pace of change in social media has now eclipsed the speed of light. With Google+ on the scene, Facebook has responded to the pressure by rolling out powerful new features to stay competitive. What's more, Facebook announced even more changes to their platform at the huge annual "f8″ conference.
To help New Hampshire-based professionals get focused, spark conversations, tune into the energy of the almighty "A-Ha!," and ignite positive, purpose-fueled action on the Social Web, Epiphanies, Inc., in coordination with the New Hampshire Division of Economic Development, will host the 3rd Annual "A-Ha!" NH Social Media Business Summit on Thursday, October 27th, 2011 at Gunstock Mountain Resort in Gilford, NH.
Early-bird pricing is open for a limited time. For more details and to register, go to http://www.AhaNH.com.
"Social media is no longer an option for businesses and organizations," said New Hampshire Division of Economic Development Interim Director Chris Way. "The business case has been made that these tools are just as necessary as traditional marketing methods – and in most cases even more effective. Our own "No Bull" Business Blog, Facebook, Twitter, YouTube, and SlideShare channels have been terrific for our visibility, and we're proud to partner with Epiphanies on this signature event for the third year in a row."
Lani and Allen Voivod, co-owners of Epiphanies Inc. and co-founders of the "A-Ha!" NH Social Media Business Summit, will again design and deliver the Summit, and serve as featured speakers for the day-long event. Other speakers at the Summit include:
***Abby Fichtner (Keynote), Evangelist for Startups at Microsoft and a highly regarding blogger in the Agile development field. "I have the most excellent job of getting to help startups build out the next generation of software," she says. "I'm extremely passionate about how we can develop better software and am always seeking new ways to share knowledge with the community."
***Lou Bortone, online visibility expert and YouTube video pro with more than 20 years under his belt as a marketing and branding executive with national media including Fox, E! Entertainment Television, The Family Channel and NBC.
***Steve Boucher, Communications and Legislative Director for the NH Division of Economic Development, whose "No Bull Business Blog" was rated "Best in Show" and "Excellent" over the last two years by the nine-state Northeast Economic Developers Association.
***Nancy Clark, Chief Strategist and President of Glen Group, a "fearlessly creative" and award-winning NH ad agency based in North Conway. Nancy is often nicknamed the "Owner Girl" at "New Hampshire's Best Agency with Big Ideas."
***Ric Pratte, Director of the Meltwater Buzz Social CRM platform for The Meltwater Group, a global reputation management firm with 800+ employees in 55 offices on six continents (including one in Bedford, NH).
***Corissa St. Laurent, Regional Development Director for Constant Contact, the undisputed leader of Engagement Marketing™ for hundreds of thousands of small businesses around the world.
***Kevin Skarritt, serial entrepreneur, founder of Flock Marketing, and Communications Director for Michigan CHI, the Michigan Chapter of the Association for Computing Machinery's Special Interest Group on Computer-Human Interaction.
"This is Not a '101' training-type event, though it's definitely suitable for both newbies and experienced users, too," adds Lani Voivod. "While there will be countless and specific tactics and strategies shared throughout the day by our featured speakers and many other New Hampshire business leaders and new media trailblazers, the Summit will showcase what's happening and what's possible in the social space throughout the Granite State and the world at large."
Continental breakfast, lunch, and refreshments are included for all attendees. In addition, popular NH singer/songwriter Jim Tyrrell will make an encore appearance at this year's Summit, playing great music throughout the day. A networking reception, door prizes, Segway demonstrations, and (conditions pending) a demonstration of the longest zip line in the continental U.S. are also in store.
Space is limited, and the previous two Summits sold out weeks in advance. To learn more, and get 50% off tickets by the early-bird deadline, go to
http://www.AhaNH.com
.
About Epiphanies, Inc.
Hailed as ''visionary'' and ''two of the most creative thinkers in the industry'' by the NH Division of Economic Development, Lani and Allen Voivod share powerful social marketing and success strategies through speaking, events, webinars, workshops, and their own online channels. Their company, Epiphanies, Inc., is in the business of engaging leaders, inspiring entrepreneurs, and redefining what's possible for bold brands, innovative businesses, and mission-driven organizations in this dynamic, relationship-driven world. To find out how they can help you boost visibility, community, competitive edge, memberships, and profits, connect with them in any or all of the ways that work for you, starting at http://www.EpiphaniesInc.com.
About the NH Division of Economic Development
The New Hampshire Division of Economic Development, comprised of the New Hampshire Business Resource Center and the International Trade Resource Center, offers resources to enhance the economic activities of the state through business attraction outreach, in-state business expansion efforts, and facilitation of government and international sales. To find out more about why New Hampshire's low business tax burden and sales and income-tax free tradition makes it the "Most Livable State" in the nation, visit http://www.NHEconomy.com, check out their "No Bull" Business Blog at http://blog.NHEconomy.com, and stay connected to NH Economy's opportunities, grants, and news on Facebook at http://Facebook.com/NoBullBusiness.
###
Contact
Epiphanies, Inc.
Lani & Allen Voivod
603.524.5248
www.EpiphaniesInc.com

Contact