Woman's Courage to Start a Business in the Recession Now Giving Back to the Community
Wornbyacelebrity.com is giving a pancreatic survivor the chance to live her dream to be a model. She will being flying in from another state to also speak at the event.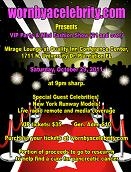 Plantation, FL, September 27, 2011 --(
PR.com
)-- While Wornbyacelebrity puts on successful events, it is always paramount to remember that it gives back by donating a portion of its proceeds to find a cure for pancreatic cancer and bring awareness to the community about this horrible disease.
Wornbyacelebrity is allowing an unsigned artist to fly in from another state to showcase her vocal skills to the audience to get exposure. The company is also allowing local salons & makeup artists to add their information to its website at no charge. In addition, it is constantly creating ways to give back to the community and has ongoing contests on its website.
Bridgette Elliott, CEO of Wornbyacelebrity said, "I am so excited that I was able to convince the top security company in South Florida to provide security for our upcoming 10/29/11 event. They are former army rangers and that's all I can say. Even President Obama can attend this event! I did say this is an Exclusive Fashion Show & VIP After Glow Party right. Talk about the attendees feeling secure!"
Having been featured in various magazines, Wornbyacelebrity's events are tasteful, designs are exquisite, models are outstanding, hair and makeup artists create unbelievable work of art, networking with key people in the industry is great, the attendee turnout is awesome, photographers capture the very essence of the event to be depicted in magazines, etc.
Wornbyacelebrity is holding a Model Call for its Spring 2012 Exclusive Fashion Show on Saturday, 10/29/11 at 6pm, Quality Inn, 1711 N. University Drive, Plantation, Florida. Females & Males (18 - 50 yrs old - all sizes, including plus size). The models must come fully dressed to impress to show off your walk at the audition ie. hair, makeup & high heel shoes already done. Bring photo with height, weight, measurements, and clothing size. Also, twelve models will be chosen from the model call to be featured in Wornbyacelebrity's 2012 Model Calendar.
For more information on on Wornbyacelebrity's upcoming Exclusive Fashion Show & VIP After Glow Party/Bachelor & Bachelorette Auction to be held in South Florida on 10/29/11 which will have a surprise special guest celebrity, New York and local runway models, live radio remote and media coverage, you can visit its website.
###
Contact
Wornbyacelebrity.com
Bridgette Elliott, CEO
561-727-7496
www.wornbyacelebrity.com
www.facebook.com/wornbyacelebrity
www.twitter.com/wornbyacelebrit
Media passes still available

Contact