7 Video Lessons to Turn Geeks, Nerds, the Elderly, Obese and Mobility Disabled Into Bodybuilders - Finally Posted by BodybuildinginWater.com
Engineer Craig Wise, creator of Body Oars™ (Google: World's Greatest Workout Device) has developed hundreds of methods and devices to deeply exercise all large muscles without driving the forces through bones and joints. He assembled a full body worth of Bodybuilding in Water™ video clips, and edited them into 7 free video classes posted at bodybuildinginwater.com.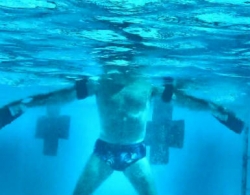 Columbus, OH, September 27, 2011 --(
PR.com
)-- According to engineer Craig Wise of bodyoars.com, the creator of Body Oars™ (Google: World's Greatest Workout Device), "Only about 10% of people are born with extra strong skeletal genetics, so only they have the ability to build extra strong muscles by using exercise methods that first load their bones."
Bodybuilding in Water™ is mostly about opposing muscle contractions directly without driving exercise forces through the skeleton, which allows for massive muscle exertion, without the pain of joint and disk compression.
Wise has just posted a series of 7 video classes at
bodybuildinginwater.com
, which are free.
Most of the exercises in these video classes allow far more muscle exertion than even strong joints could handle using traditional methods.
Wise claims that "Compression free deep exertion exercises can build massive muscle strength and stamina for over 95% of the population, which covers most Geeks, Nerds, Elderly, Obese, the Mobility Disabled, and even Canadians."
This new science not only ends the pain and stress during bodybuilding exercises, it reduces a painful 2 hour full body workout to only about 20 minutes. And because the heart is also pounding through the entire workout you should not need to do cardio exercises separately.
Some of these lessons are shockingly basic, for instance Wise demonstrates how our body's biggest strongest muscles do not apply to our hands and feet, but rather "swing" our extremities. So to efficiently oppose your largest muscle contractions, the resistance forces need to obstruct their swing motions, not move up and down your leg and arm bones.
"Almost all modern muscle building exercises still drive almost all forces through our hands or feet, which is why they only work well for people born with extra strong bones and joints. This also means that today's most popular exercise methods actually work our skeletons many times harder than our big muscles. However only muscles heal to a stronger state after being overworked, overworked joints and disks wear out."
Wise said that strength building exercises may be the opposite for children, as their bones appear to grow (instead of heal) to a stronger state by over stressing them, which causes them to grow to match the way they are being used. But this stops once the bones start to harden into adulthood. He said he expects that someday he will recommend that parents should run the snot out of their children's bones.
He added, "Because most Bodybuilding in Water exercises can be performed while wearing a life jacket, the ability to walk stand or swim is not necessary for most people to still become strong bodybuilders using this New School of Fitness.
"Countless millions of people already know that exercising in water is far more gentle on their bones and joints, then dry exercises, and both Water Aerobics and Swimming are immensely better cardio exercise methods than any dry exercise that also loads body weight onto the legs. But both of these traditional water exercise standards are missing the four 'key elements' that allow extreme muscle exertion in water."
Those four keys are Traction, Isometric Tension, Stabilization and Isolation.
These "Basement tapes" at bodybuildinginwater.org are fast, easy and fun to watch. Most of the exercises in these videos also require nothing to buy beside swimming pool access, and a bathing suit.
These programs were produced from video footage Wise shot while developing these exercise over the last few years. He said that he never meant for these clips to be seen by the public but he had developed so many powerful methods that no one had ever seen before, he felt he had to share them with all the Geeks, Nerds, Elderly, Obese and Mobility Disabled people who never knew they can seriously body build.
However he says that former athletes and bodybuilders, who are no longer in top physical condition, show the most instant benefits. "All of that muscle they once built up they still have, but when they stopped loading it, it deflated like a balloon so their body would not waste energy on something not being used. Then much like how a shriveled up arm, will inflate in several days after coming out from a cast the same effect happens once these methods start placing huge loads back on their long lost big muscles."
Wise was mobility hampered as a child, up until age 27, now in his 56th year he is in by far the best physical condition of his life and is now working on several reality TV show concepts.
If you have any questions you can contact him directly at craig@bodybuildinginwater.com
###
Contact
High Efficiency Fitness Company
Craig Wise
614 633 0860
www.bodybuildinginwater.com
Google "Bodybuilding in Water/videos" for this video or "World's Greatest Fitness Device" for more about Body Oars.

Contact