The Hall Pass Tour Makes Kickstarter Debut
Team Launches 20 by 20 Campaign to Raise $20,000 for Nationwide Expansion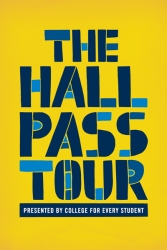 New York, NY, September 28, 2011 --(
PR.com
)-- What happens when five music loving young adults commit to making an impact on education? You get the Hall Pass Tour – a series of high energy after school concerts designed to encourage underserved K-12 students to pursue higher education and follow their dreams. After a successful pilot in New York City this past spring, the Hall Pass Tour begins its nationwide expansion this fall and currently has sixteen (16) schools across the Northeast on board. To fund the launch, the tour team has turned to Kickstarter - the premier crowdfunding site for creative projects.
Their goal is to raise $20,000 by October 20 to cover a variety of costs including travel, accommodations, and equipment. They've coined it the "20 By 20 Campaign." The project officially launched on September 20 and offers a variety of creative rewards for pledge amounts ranging from $1 to $10,000.
"It's an ambitious goal," said tour co-creator/headlining singer Janelle "j.RENEÉ" Bechdol, "but with the support and pledges we've gotten thus far, it's absolutely attainable."
The 30-day project can be viewed at
www.hallpasstour.com/Kickstarter
.
Presented by College For Every Student, a national nonprofit that helps underserved students prepare for, gain access to, and succeed in college, the Hall Pass Tour is led by independent artists j.RENEÉ and ScienZe. And most importantly, the tour features talented students as opening acts having them share their college and career aspirations in order to inspire their peers. In gearing up for the expansion, the tour has added pre-concert college prep workshops, bigger giveaways, and more college resources to its arsenal of student encouragement.
Over the next three weeks, the tour team has a series of promotional events planned across New York City including a pledge party, street jams and a secret pop-up performance. Updates will be posted on their Kickstarter project page.
For more information on the Hall Pass Tour, visit www.hallpasstour.com.
###
Contact
The Hall Pass Tour
Holley M. Murchison
646-361-7621
hallpasstour.com

Contact