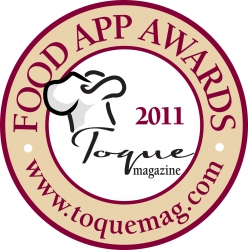 Huntington Beach, CA, October 13, 2011 --(
PR.com
)-- Food apps are getting their own award event. Toque Magazine announces the launch of the first-ever Food App Awards, honoring app developers, designers and owners within the food, wine, beer, spirits and restaurant categories. Winners will be announced on December 8, 2011 during a live Twitter event at 5:30 p.m. PST (hashtag #foodappawards).
Entries are currently being accepted on
toquemag.com
and have an extended deadline of October 28. Toque editors and food app critic Steve Cooper will select the finalists; an independent panel of judges will evaluate and score the winning apps in 20 categories, including Best Overall, Best Design, Best Navigation, Best Value, Best Cookbook/Recipe, Best Restaurant, Best Branded, Best Restaurant, Best Innovation, Best Baking and Best Social.
"We are pleased to have 11 outstanding judges on our panel to evaluate the finalists," says Erika Kotite, founder of Toque Magazine. "They all have impressive backgrounds in digital media, food journalism and mobile apps. Plus, they all have a great love of food and of the tools to procure it."
The judges are: Rick Boyce, vice president of advertising sales at monster.com; Jeff Brooks, founder of Digital Industries and Video Fishbowl; Tom Frangione, COO of Greylock Partners; Danielle Gould, founder and editor of Food + Tech Connect; Carmen Hughes, principal at Ignite PR; Kristina Johnson, chef and blogger at formerchef.com; Amanda Kooser, technology editor for CNET's blog Crave; Rieva Lesonsky, small business expert and CEO of GrowBiz Media; Anne Maxfield, blogger/site owner of The Accidental Locavore; Brian Morrissey, editor-in-chief at DigiDay; and Gordon Plutsky, CMO at King Fish Media.
For more information about submitting your app for consideration or about the awards event on December 8, please contact Erika Kotite at erika@toquemag.com.
###