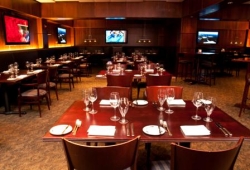 Erie, PA, October 19, 2011 --(
PR.com
)-- Sensory 3 Restaurant and Lounge located in the
Presque Isle Downs and Casino
officially launched their new menu Oct. 12, 2011. The new menu celebrates Sensory 3's classic La Bonne Vie steakhouse roots and introduces new eclectic specialties that are sure to spark the wildest of imaginations.
"Sensory 3 is at the cutting edge of the culinary world," said Joey Marshall, Sensory 3 Manager. "Our goal is to evolve the restaurant menu by striking a delicate balance between continuing to serve our loyal guests and attracting new ones."
The restaurant built its original menu around classic steak and lobster creations but in this new menu the Sensory 3 chef's expanded their specialty items with unique, creative recipes.
The Sous Vide Short Ribs dish is a perfect example of their ingenuity. The ribs are prepared by cooking them in a low temperature water bath for long period of time. They are then served on a bed of six cheese pasta purses accompanied with braised baby carrots and topped with a Morrell mushroom cabernet demi-glaze.
"This method of preparation is a unique way to prepare a traditional main dish," said Marshall. "The low temperature water bath renders the ribs tender but keeps the flavor completely intact. The meat literally falls of the bone."
"We want to keep the food fresh and interesting for our dinners. And we want to give our customers a chance to try something different but we want them to know that they can still find their old favorites here," said Marshall.
Another fresh and interesting new menu item is the Lobster Bisque Froth. This traditional but totally unique dish is revved up with avocado foam and garnished with a chilled cocktail crab claw.
"We actually aerate the soup to make it lighter," said Mike Davis Sensory 3 Executive Sous Chef. "This has been one of our most popular dishes since we launched the new menu."
Along with the new and improved menu the venue also features state-of-the-art multi-media equipment that allows for a cultural experience. The restaurant often showcases impressionistic art by the masters and classic movies on the high-definition monitors attached to the walls.
Some of Sensory 3's new menu Items include:
-Seafood Fusilli: Half grilled lobster tail, sautéed shrimp and snow crab claws on a bed of spiral Pasta tossed with garlic, baby spinach, tomatoes, and unfiltered olive oil
-Cumin and Coriander Seared Tuna: Fresh Ahi tuna seared with a cumin and coriander spice blend accompanied by Tatziki sauce which is a yogurt, cucumber, red onion, mint, lemon juice. Served with oven dried Roma tomatoes and roasted olives.
For more information or to book a reservation now visit Sensory 3 at www.casinoinerie.com or on Facebook.
If you or someone you know has a gambling problem, help is available. Call 1-800-GAMBLER.
###