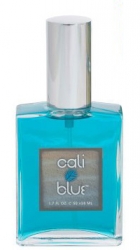 Bourbon, IN, October 27, 2011 --(
PR.com
)-- New beach-themed unisex fragrance, Cali Blue, hits the fragrance market with a mission: to help build fresh water wells in impoverished villages throughout India and other parts of Asia, and throughout Africa.
Manufactured by AromaEarth, Cali Blue offers a clean ocean breeze scent, for men and women, inspired by AromaEarth owner, Kimberly Brown's love of the California beach lifestyle.
Ten percent of the profits generated from each bottle of Cali Blue that is sold will go directly towards building new fresh water wells for people in third world countries who currently do not have access to something as fundamental as clean and safe drinking water.
Through her company, AromaEarth, founder and owner Kimberly Brown has already helped to build six fresh water wells throughout India, making safe drinking water accessible to families living in impoverished conditions.
"Our mission with Cali Blue fragrance," states AromaEarth owner, Kimberly Brown, "is to eventually be able to donate 90% of our profits to building wells in villages throughout third world countries, eliminating the plight of one billion human beings on this planet who currently do not have access to clean and safe water."
Visit
www.aromaearth.com
to learn more, and to purchase a bottle of Cali Blue to help build a fresh water well for families in need.
About Cali Blue
Cali Blue is a
unisex fragrance
with a crisp and clean California sunshine breeze. The blue hued fragrance is a citrus medley of lemon, orange, mandarin and bergamot in the top note, with a floral bouquet of lily, lavender, rose and a whisper of night blooming jasmine in the middle. Cali Blue has an ambery, vanilla, musky and sage-like base-note.
Meant for his and hers use, Cali Blue is encased in a square 1.7 fl oz. bottle filled with turquoise
eau de parfum spray
and capped with a silver top; clean and sophisticated. Manufactured and distributed by Aroma Earth, the company's love of the beach and water transcends the ocean, with a corporate philanthropic mission of bringing clean water wells to people in third world countries.
When you purchase a bottle of Cali Blue, ten percent of the profits from each bottle sold will go directly toward building wells in parts of the world where clean drinking water is not currently available. AromaEarth has already contributed to the completion of clean water wells in the villages of Bhagdal Thanda, Ramagundala, Basava Pur, Bangarde, and Pittalawada in India.
To learn more about Cali Blue, visit:
www.AromaEarth.com
.
About Kimberly Brown - owner of AromaEarth & creator of Cali Blue fragrance
With a passion for fragrance that goes back more than a decade, Kimberly Brown has been manufacturing fragrant candles for retailers across the United States, and for distributors under private label, since 2001. Expanding her love of creating intoxicating scents, Brown decided to branch out from candles to wearable fragrance.
During an inspiring trip to Malibu, California, Brown fell in love with the lifestyle, atmosphere, and most importantly, the fragrance of California beaches. "I love everything about Malibu," states Brown, "the sunsets, the ambiance and the lifestyle. I wanted to create a fragrance that would embody a clean beach-y scent."
Brown began working with a perfumer in 2007 to begin developing Cali Blue. In addition to her passion for fragrance, Brown is determined to continue building fresh water wells for underprivileged people in third world countries, having built six wells in villages throughout India, to date.
###