The Five Strategies the Cardinals Used to Win the World Series; How to do the Same in Business (Video)
People with inborn talent may be good at what they do - but only the mentally tough reach the highest plateaus in their field. And here's the best news of all: mental toughness is something anyone can learn and practice in their business.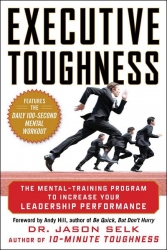 St. Louis, MO, November 01, 2011 --(
PR.com
)-- Dr. Jason Selk LPC, NCC is the Director of Mental Toughness for the World Series Winning Team, the St. Louis Cardinals and the author of the newly released book titled "Executive Toughness, The Mental Training Program to Increase Your Leadership Performance" (McGraw-Hill, Nov 2011).
Jason uses his in-depth knowledge and experience of working with the world's finest athletes, coaches and business leaders to help individuals and organizations outperform their competition. To see one of his strategies, The 100-Second Mental Workout, watch
www.youtube.com/watch
As an athlete himself, Dr. Selk learned early on that one's worth isn't decided by wins and losses, but rather the effort one puts into the preparation. He knows that while we don't control the outcome, we do control our preparation, execution, effort and our contribution to the team.
That perspective defined for him the term "mental toughness" and is something Dr. Selk, as one of the top sport psychology consultants in the country, instruct his clients.
Realizing the effectiveness of his mental training programs, corporate teams have also sought his acumen. He regularly speaks with UBS Financial, Edward Jones, and North-western Mutual and Enterprise Holdings, to name a few. Dr. Selk shares now his successful business psychology with the release his new book, 'Executive Toughness'.
Jason is a regular contributor to ABC, CBS, ESPN, and NBC radio and television and has been featured in Muscle and Fitness, Shape, and Fitness Magazine.
Media Contact
Suzanna Gratz
Inspiring Promotions
www.inspiringpromotions@gmail.com
415-250-1380
###
Contact
Inspiring Promotions
Suzanna Gratz
415-250-1380
www.inspiringpromotions@gmail.com

Contact
Multimedia
St. Louis World Series Champions Have A Secret. Now Top Biz/Sports Psychologist Shares Simple, Fast, Effective Tools For Success!