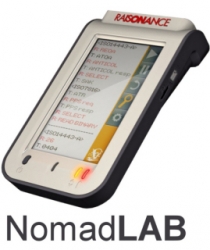 Paris, France, November 16, 2011 --(
PR.com
)-- Raisonance, a leading smart card test tool provider is introducing the NomadLAB hand-held, autonomous communication analyzers for development and troubleshooting of Smart Card and Near Field Communications (NFC) systems. NomadLAB portability facilitates interoperability and functional verification of systems and software in the lab or in the field. NomadLAB marks a major evolution in protocol analyzers by providing a laboratory quality tool that operates independently of a PC, with functionality and pricing that is tailored to requirements of integration, software development and support engineers.
"NomadLAB is the result of persistent requests from smart card system designers and software developers for tools that allow them to quickly identify problems that occur in complex NFC and smart card systems," explained Benoit Hedou, CEO and Smart Card Activity Director at Raisonance. "To meet the needs of this market segment, Raisonance worked in close collaboration with Gemalto to understand the challenges faced by these high-level users and then tailor Raisonance's laboratory class analyzer technology to their use case." The result is a new functionally adapted, cost effective, hand-held spy and analyzer. This combination of features and affordability also makes NomadLAB an ideal solution for companies who need to equip large development and support teams.
NomadLAB's signal analysis capability is tailored to provide visibility of protocol and application level information so that software developers and support engineers can quickly identify why and where system failures occur. Capture and navigation are driven from a simple, easy-to-use interface on the tool's tactile screen. Even though the tool will often be used in a lab or office setting, NomadLAB portability also allows users to take the tool anywhere their products are found. "NFC and contactless card technology is in the fielding stage. Engineers and software developers should never have to make due with cumbersome PC-connected tools in order to verify installations in the field or at a customer's offices," explained Benoit Hedou.
NomadLAB provides analysis of a wide range of smart card communication protocols. This includes ISO 14443 (A, B) protocol for 13.56 MHz contactless smart cards and readers, with the possibility to add support of NFC (IP1, IP2) protocol. NomadLAB also supports ISO 7816 and SWP (HDLC, HCI) protocols for test of contact smart cards, USIM and their implementation in mobile phones. This complete coverage allows users to analyze communications between a wide range of smart cards and related products including:
• Contactless smart cards and readers
• Contact smart cards and readers
• USIM cards for mobile phones
• Contactless front end components for NFC mobile phones
• 13.56 MHz proximity objects, devices or systems
NomadLAB can operate on its own rechargeable battery. In standalone operation, NomadLAB configuration and communication traces are managed and viewed on the tool's 4.3" color touchscreen. NomadLAB can then also be connected to the user's personal computer for more detailed review of communication traces or exchange of trace files with users of other Raisonance tools. NomadLAB trace files are fully compatible with other Raisonance test software and laboratory class platforms like ContactLAB and ProxiSPY. With NomadLAB, software developers, quality assurance, system and support engineers have a tool that goes where they need it to go in order to do system integration, software development, troubleshooting and on-site support of contactless and contact smart card systems.
NomadLAB will be available via dedicated Raisonance distributors in Q1 2012. The platform will be available with a Contactless Signal Analyzer option covering ISO 14443 technologies, NFC analyzer option, and a Contact Signal Analyzer option covering contact smart card protocols SWP (HDLC, HCI) and ISO 7816. Users can also have a full platform that includes both contactless and contact options.
NomadLAB preview demonstrations are possible for visitors at Cartes 2011, Paris Nord Villepinte from 15 to 17 November 2011. For demonstrations, visit the Raisonance booth 4M 098. Preview demonstrations will also be scheduled worldwide via Raisonance distributors and at dedicated smart card events. For more information and event dates, visit the NomadLAB page.
About Raisonance
Raisonance is a leading manufacturer and supplier of development and validation tools, serving customers that include leading component manufacturers and professional engineers around the world since 1988. With extensive technical expertise in both hardware and software design, Raisonance offers innovative, high quality, cost effective tools for smart card system validation and microcontroller application development. Working with industry leaders, certification laboratories and standards organizations, Raisonance has developed its "Proxi" and "Contact" lines of protocol analyzers and configurable laboratory readers for interoperability testing and certification of contactless and contact smart card systems used in banking, transportation, identity and mobile communications applications.
Contact
Steve Gussenhoven
Tel: +33 4 76 61 02 35
Email: steve.gussenhoven@raisonance.com
###