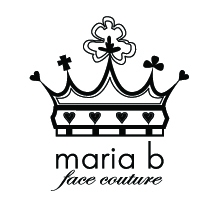 New York, NY, April 26, 2007 --(
PR.com
)-- Maria B. Cosmetics has introduced a unique lipstick concept by introducing 30 shades of red—colors ranging from the most electrifying, alluring red to the deepest mahogany brown/red and everything else in between. The line offers the 30 shades in several textures that include sheer, matte, and pearl with a velvet, luxurious, smooth finish. "Any woman in search of her perfect red lipstick is guaranteed to find it within our line because it is the lip color we specialize in," said Esther Nunez, the company's operations director. The lip colors are uniquely poured so that they may double as rouge and the colors are highly pigmented so they also work as a stain. The colors are timeless, alluring, romantic, and elegant and will remind the user of old times with names like Disco and 1985.
The line also specializes in face bronzers that are extremely smooth, finely milled for the most natural look. They come in a wide selection of colors and finishes and come packaged in hand decorated compacts embellished with crystals. Maria B. offers other unique, practical products like the liquid foundations that come complete with a concealer built-in the foundation bottle. The line also carries a luxurious selection of lip glosses like their Leatherette lip gloss--a patent leather shine with a smooth finish poured in oversized compacts embellished with butterfly motifs and genuine Swarovski crystals. The lip gloss tubes are uniquely decorated with a wrap around zebra design allowing the color of the product inside to show through the tube very stylishly. "Our products are designed with complete practicality and ultra chic style in mind because we recognize that the Maria B. woman is a busy, hip socialite with places to go and people to meet," said Nunez.
The line is a total inspiration from the sexiest and hottest couture fashion and that concept is deciphered in their colors and packaging. The end result is to be able to transport women with their products to exotic locales and jet-setter spots like Paris, Milan and St. Barth's where only the flyest divas have fun, partying with the hottest rock stars always looking enviously impeccable with a radiant glow. "We are delighted to offer women no fuss, multi-function products with a perfect tailored fit and feel by only using the highest quality ingredients at very accessible prices, in addition to the ultra feminine, stylish, and trendy packaging," further stated Nunez.
Maria B. Cosmetics is equal parts couture and girly inspired cosmetics company established in early 2003 in Los Angeles, California. The idea behind the line is to offer products of the highest quality, multi-function, practical cosmetics with a trendy attitude and specialized color offerings with classic yet girly details. The company has gone from humble beginnings in the Founder's garage to a loyal following from soccer moms, trendy fashionistas, it-girls, and dramatically stylish women.
Maria B. Cosmetics will be available in select high-end specialty stores and boutiques beginning September 2006 by calling 877.271.4430 or via www.mariabcosmetics.com.
###