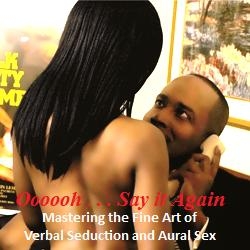 Hollywood, CA, November 29, 2011 --(
PR.com
)-- Is Phone Sex the "new" Casual Sex?
Mode One Multimedia, Inc., and BookLocker.com will be soon releasing the third paperback by Alan Roger Currie, author of "Mode One: Let the Women Know What You're REALLY Thinking". Currie's latest book is entitled, "Oooooh ... Say it Again: Mastering the Fine Art of Verbal Seduction and Aural Sex", and is set for release in mid-to-late December 2011.
In the 1996 romantic comedy, "The Truth About Cats & Dogs," the character of Brian (actor Ben Chaplin) becomes infatuated with the voice of Talk Radio Show Host Dr. Abby Barnes (actress Janeane Garofalo) even before he is able to meet Abby face-to-face. Later in the film, Brian and Abby engage in an episode of hot, kinky phone sex that underscores their growing chemistry and solidifies the connection the two have developed within the context of the story.
Currie references "Cats & Dogs" because in his opinion, the movie highlights the fact that a man and a woman can develop very powerful romantic and/or sexual chemistry just based on the power of words exchanged and listening to each other's voices over the phone, rather than most of the emphasis of attraction being placed on physical appearance and attractiveness.
Currie, who is also the host of two popular talk radio podcast programs on the BlogTalkRadio Internet Radio Network ("Upfront & Straightforward with Alan Roger Currie" and "The Erotic Conversationalist"), believes that many men can use their creative use of erotically-charged words, their voices, and their overall conversation skills as a powerful tool for attraction and seduction with women of interest.
"There have been a number of times when I had a woman enthusiastically ready to have sex with me just based on two or three phone conversations," said Currie, who says 'Say it Again' will contain more sexually provocative and erotically explicit language than his first two paperbacks combined. "I personally think aural sex, or phone sex, is one of the best predictors of face-to-face sexual chemistry there is," added Currie.
In Currie's book, "Say it Again," men who are womanizers and who favor short-term or non-monogamous sex (i.e., 'casual' sex) tend to fall into two general categories: Direct womanizers (those men who are upfront and straightforwardly honest with women about their desire for only casual sex) and Indirect womanizers (those men who tend to be deceitful and misleading with women about their real sexual desires, interests, and intentions). Currie asserts most men who fancy themselves as "Pick Up Artists," or PUAs, fall into the latter category. "Most PUA types tend to give naive women the misleading impression that they are interested in a long-term monogamous relationship, when they know deep-down that all they want is a few days or a few weeks of casual sex with that woman," asserted Currie.
"The primary basis of my 'Mode One' philosophy is that if you know ahead of time that all you want is a sexual relationship with a woman that is short-term in nature or non-monogamous in nature, you should be as upfront and honest about that from the start. This way, you are not guilty of engaging in 'manipulative head games' with women. There are many women in society that don't mind indulging in casual sex just like men. You just have to know how to identify them," said Currie.
"Say it Again" suggests that the vast majority of women in society are not as prudish as they initially present themselves to be publicly, nor do they put as much strict emphasis on maintaining a long-term monogamous relationship as they may initially give men the impression that they do. "Many women are 'fake prudes,' and it takes a man conversing with them with a boat load of confidence and very highly developed verbal seduction and body language skills to identify and expose the 'disingenuous prude' types."
Currie was born and raised in Gary, Indiana and graduated from Indiana University in Bloomington, Indiana. Currie was a featured speaker for the Direct Approach Dating Summit in London, England in November 2010, and will again be a featured speaker for the upcoming Direct Approach Dating Summit that is scheduled for February 10-12, 2012 in Las Vegas, NV (more info: http://www.directdatingsummit.com/)
Currie's newest book, "Say it Again," will soon be on sale on Amazon.com, BarnesAndNoble.com, BookLocker.com, and Currie's main 'Mode One' website; the book's list price is $19.95 (USA), but the book is currently available for a special pre-order discount price of $14.95 at http://www.modeone.net
###