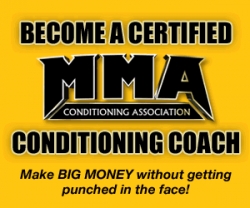 Rancho Santa Margarita, CA, December 15, 2011 --(
PR.com
)-- Recognizing the growth and integration of mixed martial arts with personal training and physical fitness, the National Exercise & Sports Trainers Association (NESTA) recently approved the Mixed Martial Arts Conditioning Association's (MMACA) online certification program for 4.0 continuing education credits. These credits also satisfy recertification requirements for the NESTA Personal Fitness Trainer program.
The online MMACA certification program is designed for personal trainers, coaches, martial artists and MMA participants interested in acquiring both athletic and business skills required for successful mixed martial arts coaching. It combines combat drills, plyometrics, mental training, TRX, kettlebells, aerobic and anaerobic conditioning, sports nutrition, flexibility and more.
"Mixed martial arts continues to be adopted into a variety of sports as well as popular culture and national TV, so it only makes sense that this special online certification now qualifies for continuing education credits," said John Spencer Ellis, founder of the Mixed Martial Arts Conditioning Association. "We are pleased with this recognition of the strength and quality of our certification program."
Becoming a certified mixed martial arts conditioning coach involves a series of online lectures, video demonstrations, a digital manual, audio lessons and more. The program is 100 percent online and self-paced.
In addition to the NESTA continuing education credits, the Mixed Martial Arts Conditioning Association's certification also earns credits through the National Academy of Sports Medicine (NASM), the International Sports Sciences Association (ISSA) and the National Strength and Conditioning Association (NSCA).
About MMACA
The Mixed Martial Arts Conditioning Association (MMACA) was developed to bridge the gap between sports conditioning science, MMA training methods and direct application from the ring, octagon, mat or cage. The MMA Conditioning Association is the MMA certification division of the National Exercise & Sports Trainers Association (NESTA), a leader in innovative solutions for fitness, nutrition and wellness professionals, as well as club owners since 1992. The MMACA and its staff of educators, exercise physiologists, dietitians, biomechanists, strength coaches, sports psychologists, physical therapists, massage therapists, kinesiologists and business professionals have joined with the world's top boxers, wrestlers, BJJ fighters, Muay Thai fighters, American kickboxers, MMA fighters and coaches to develop a comprehensive MMA conditioning program. For more information about the certification, please visit
http://www.mixedmartialartsconditioningassociation.com/mma-conditioning-coach-training-details.html
###