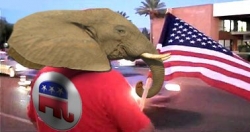 Tucson, AZ, December 02, 2011 --(
PR.com
)-- "Tea Party patriots, conservatives, and Republicans in Senator John McCain's district take a stand for liberty," says Jeff Bales, organizer of a Tea Party inspired protest scheduled for Monday in Tucson, Arizona. The protest addresses Senator John McCain, co-author of the recently passed National Defense Authorization Act. Similar protests are scheduled to be held by conservatives in various locations in the United States.
Organized at:
http://www.facebook.com/events/314676828559778/
Date & location: Monday, December 5, 2011; 4:00 - 6:00pm; SW corner of Speedway and Campbell, Tucson, Arizona.
The National Defense Authorization Act allows for any U.S. citizen to be held by U.S. military for an indefinite period of time, with no Constitutional due process. The Senate Armed Services Committee, led by Senators Carl Levin (D-Michigan) and John McCain (R-Arizona), approved the bill with provisions for military detention of any suspect. That includes citizens in the United States, accused of involvement (no proof needed) in terror-related offenses. In Mr. Bales' opinion, military detention could include citizens accused of simply lying to a federal agent, unrelated to actual terrorism but classified as related to terrorism.
"Many protesters scheduled to participate in Monday's Arizona-based event are Republicans and conservatives that refuse to accept the progressive, big-government agenda established by their Republican Senator, John McCain. When it comes to personal liberty and violation of every citizen's Constitutional rights, Republicans are willing to take a stand against one of their own if a major mistake has been made," says the protest's host, Jeff Bales, a Member-at-Large of the Pima County GOP Executive Committee.
"'Innocent until proven guilty' is essential to our legal system and American way of life. The Senate Armed Services Committee's legislation violates fundamental values. It is unconstitutional and must be defeated. We cannot allow America to go further down the road of becoming a police state," says Jeff Bales.
Leaders from the national non-partisan http://goooh.com/ citizen election effort will be on hand to sign up new members.
Protest host, Jeff Bales, says, "Ordinary citizens should take a stand for their rights and help to lead the country at the local level." His website is found at: http://ordinarycitizenforpresident.com/
###