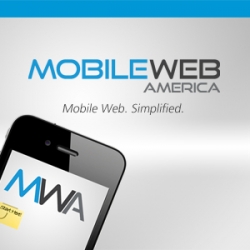 Irvine, CA, December 08, 2011 --(
PR.com
)-- A decade ago there was a tech revelation; "Every Business Needs Website," just to keep up with the trends. According to Morgan Stanley, by 2013, mobile web traffic will grow from the 1/3 of all web access that it is today, to beyond that of the PC. With this, there is a new tech revelation; "Every Business Needs a Mobile Website" to stay afloat. To solve business mobile needs there are many solutions: Custom Mobile Development (expensive-$5k or more); Build-It-Yourself-From-Scratch-Just-to-Update-it-Myself tools; Cheesy Template Builders; or Mobile Web America, Inc. (MWA) for $4.99/month. The exciting product MWA introduced is an automated, one-click, web-to-mobile converter. An existing website's content is utilized on-the-fly to create a mobile version; including re-sized images, optimized videos, mobile friendly maps, click-to-call, Google Adsense/ Admob Integration, customization options and more. The optimized mobile version, once converted, will update based on the original. To assist in building a company's reach, the creation of a mobile website by MWA will improve Search Engine Optimization (SEO). With Mobile Web America, it truly is the "Mobile Web, Simplified." From MWA's homepage it takes three simple steps: 1) type in the business URL, 2) see a free preview of the mobile site, 3) start a 7-day free trial and the process is finished in 60 seconds; again it's only $4.99/month thereafter.
As a website owner it is important to know that total page views from mobile devices have increased by 1000% from 2009-2011 in the US according to Kiss Metrics. Compuware states that Mobile end users of websites are up to 86% more likely to buy a product with a site that is mobile. On a global scale, according to Morgan Stanley, the US has only 49 mobile devices for every 100 people. The average worldwide is nearly 60. Going mobile is necessary to capitalize on the World Wide Web.
Mobile Web America is catching great traction with partnerships formed through Europe, South America, Asia and more. With this innovative new idea, Mobile Web America was nominated as one of the "Next Best Things in Tech" by Bloomberg Television. The mobile web is here to stay; Entrepreneurs, Small & Medium Businesses and Non-Profits alike are joining. Start a free trial today to be a part of the new Mobile Tech Revolution.
###