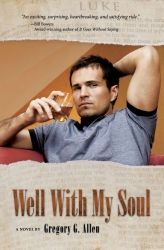 Dallas, TX, December 17, 2011 --(
PR.com
)-- Texas seems to be the center of every reality show on television these days and Texan native Gregory G. Allen is happy to see his home state getting so much attention and to return to his roots to share his debut novel. After spending the past twenty four years living in the cold New York area, the author will be spending one evening at Krimson & Klover Boutique in Uptown Dallas on Wednesday, December 21 from 5:00 to 7:00 pm where he will be selling and signing copies of his novel Well With My Soul.
Well With My Soul is a compelling new novel centered on the turbulent lives of two brothers, one a liberal gay man in New York City, the other a southern conservative, who spend fifteen years in the late 70s-90s attempting to find inner peace in their lives while dealing with their struggles with each other. The book was a finalist in the Literary Fiction category with USA Book News for 2011, a Lambda Literary nominee, and has had numerous accolades from authors, clergy members, and therapist about this story that deals with topics such as religion, sexuality, and addiction.
Allen (his pen name, not his birth name) graduated from Garland High School in 1987 and moved to New York City to be an actor. He toured the country as a Teenage Mutant Ninja Turtle, worked on Saturday Night Live on TV, and performed in musicals and plays in several regional theatres in the late 80s and early 90s. He has penned numerous musicals, received grants and awards for his writing, and this fall his debut novel Well With My Soul was published by ASD Publishing.
"I'm not one to always play by the rules and give people the exact stories they expect," Allen says. "So much of what I do and write take readers on a journey full of twists and turns they don't always see coming. Finding acceptance of those plot twists is one of the reasons it has taken a while for this book to get out - but I'm glad for all I went through to get the story told."
It's also one of the reasons Allen loved the idea of a book signing that didn't take place in a book store...but instead spending the holiday season in the middle of a place people would shop.
"I'm so thrilled to get the opportunity to do a book signing in Dallas when I'm there for Christmas," Allen said. "I still keep up with so many people from my past and would love to see those faces as well as new ones at the event. I'm also very grateful to Krimson & Klover for allowing this unique evening in their beautiful boutique. People can buy a book and do some Christmas shopping at the same time! It's a win-win!"
Allen has been one to reinvent himself several times over the past years from working in corporate America in the World Trade Center to running an arts center on a college campus. Yet he always returns to his love of writing in many genres. He has had short stories, poetry, and a novelette about his half brother that passed away at 34 years old all published over the past few years. Well With My Soul has been called "fascinating, gripping, heartbreaking, engaging and redemptive."
Allen wants to remind people that have already purchased a copy of the book to bring it with them and he'll sign those as well.
Allen still has family in the Dallas area and his sister Angie McWhirter is a singer that performs across the Metroplex. Krimson & Klover is located at 3111 Cole Ave # 101 Dallas, TX. For information on the author, visit his website at www.ggallen.net.
###