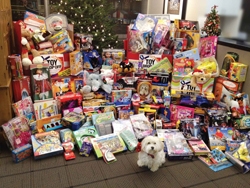 Norwalk, CT, December 19, 2011 --(
PR.com
)-- TFI Envision, Inc., the award winning design and marketing firm based in Norwalk, CT., has been a drop off point for the annual St. Luke's LifeWorks Holiday Gift Collection since 2009.
This important collection provides gifts to over 2,000 children affected by homelessness, poverty or HIV/AIDS and is distributed thru 30 non-profit agencies in the area. "This Collection is more than about giving gifts. It's about sharing in the spirit of the holidays and creating a better experience for more people than one could ever imagine," said Takeia McAlister, Holiday Gift Collection Manager, St. Luke's LifeWorks. Based in Stamford, CT, St. Luke's LifeWorks is an independent non-denominational charity. Their mission is to break the cycle of homelessness by helping people achieve — and maintain — permanent housing and stability in their lives.
To bring attention to this collection, TFI Envision has hung a huge colorful banner on the front of their building on Westport Avenue in Norwalk as well as a curbside sign promoting this event since late October. "Our location on Route 1 directly across from Stew Leonard's - the world's largest dairy store - brings thousands of people right by our building every week. This year, we are so pleased to announce that we collected over 50% more toys and gifts than last year. People really opened their hearts to this collection and we are very grateful, especially in this difficult economic time!" said Elizabeth P. Ball, President and Creative Director at TFI Envision, Inc.
"Several local companies changed the way they celebrate the holidays. Rather than employees giving gifts to each other, they donated gifts and toys to the St. Luke's LifeWorks Holiday Gift Collection. Families would come to drop off gifts. It was very moving to see the children drop a toy into the donation box for another child. It is truly the spirit of giving at its best!" said Ball.
Since 1975, TFI Envision, Inc., specializing in developing strategic design and marketing solutions for branding, packaging, promotion, digital and corporate communications, help organizations achieve their marketing and communication goals with compelling, consistent messaging that is on brand and on target.
Photo Caption: TFI Envision's office dog, Honey, kept an eye on the growing mountain of gifts and toys.
###