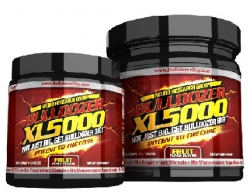 Corona, CA, December 22, 2011 --(
PR.com
)-- Neuro Research Group is proud to announce the release of their highly anticipated product Bulldozer XL5000. The product, Bulldozer Xl5000, is well known among consumers for being extremely effective and of highest quality, and most importantly for being free of fillers, proprietary blends and unnecessary ingredients.
Bulldozer XL5000 original released in early 2010 was the company's biggest hit, appealing to consumers who are seeking a healthier, cleaner and more effective alternative to what is available in the market. "The sole idea behind Bulldozer XL5000 is transparency, honesty and delivering a product that truly works," says Neuro Research Group's Director of Product Development, Tarek Atwan.
Neuro Research Group from its inception is dedicated to producing ground breaking products to set new standards within the dietary supplement industry. Bulldozer XL5000 is categorized as a Pre-workout and Intra-workout dietary supplement scientifically formulated to improve strength, muscle contraction, stamina, endurance, muscle pump and overall recovery. The product is specifically formulated with select high quality ingredients to aid athletes in improving performance, burn fat, increase muscle size and overall energy levels without the negative side effects associated with products within this category that are loaded with heavy stimulants.
"What helped me make the switch to Bulldozer XL5000 was the lack of proprietary blends. With this product I am able to exactly know how much I am consuming per ingredient so I can tailor my dosage based on my need and desired effect," states Ron Sage in a letter to Neuro Research Group. He adds, "My workouts have never been the same; I am able to last longer in the gym without any negative crashing effect. My strength has dramatically increased and people are noticing the change in my physique."
The new Bulldozer XL5000 has an updated packaging and label design. The company now offers two different sizes of the product: A 10 serving (16 oz bottle) and a 30 serving (44oz bottle) backed by their 100% guarantee toward the highest quality and potency. "We knew from the beginning that Bulldozer XL5000 will be a hit and gain a mass appeal from consumers that appreciate quality. This was confirmed by the thousands of fan-based emails received in regards to Bulldozer XL5000," says Tarek Atwan, "We spent a lot of time and money sourcing the highest quality ingredients the industry can offer to ensure the highest potency achievable in a pre-workout supplement."
Their new product website is www.BulldozerBig.com which allows interested buyers to register in order to get latest product updates and promotional discounts. The product is expected to ship worldwide early December 2011.
Neuro Research Group, is dedicated to producing high quality products that are base on science and research, without relying on fake marketing campaigns that promise but never delivers. Neuro Research Group was founded in 2009, and is based in southern California. For more information please contact us at 1-877-599-2739 or check our website at www.brainphysique.com
###