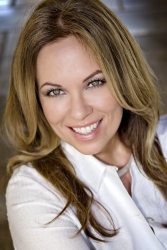 Rancho Santa Margarita, CA, January 01, 2012 --(
PR.com
)-- According to celebrity interior designer Kelli Ellis, it's going to be a very happy new year for many people who are redesigning their homes or updating rooms and spaces. In her predictions for the top interior design trends for 2012, Ellis focuses on both fun and function.
Even better, she says that most of next year's trends are cost-conscious and budget-friendly with a focus on the basics as well as a few emerging products that can create the "wow" factor.
In particular, Ellis predicts:
The basics get bolder: "Over the last year, we've seen wood finishes getting lighter, rougher and unfinished. As a result, upholstered furniture is fighting back from beige!" she said. "We are seeing a slow trend towards bright, colorful and bold patterned sofas and chairs." Ellis adds that it's not "grandma's floral," but rather rich velvets, silks and chintz with bold patterns and contrast. For clients on a budget, she suggests reupholstering a favorite accent chair or changing one or two pieces of furniture to keep rooms fresh.
Let there be light: Aside from paint, Ellis encourages clients to update their lighting for a simple way to update a room. "What I change my clients' lighting, I almost always increase the size – think bigger for a big impact," she added. "The trend is to blend styles. Iron and crystal combinations, drum pendants and blown-glass, and colored crystal and organic shapes will instantly add some 'wow.'"
Fun function and form: A huge fan of texture, Ellis suggests the use of dimension to freshen a room's look and feel: "I L-O-V-E texture. I cannot get enough of tile and seemingly solid glass tiles add a subtle shine and shimmer to any room." In addition, Ellis recommends dimensional wallpaper and wall vases with fresh flowers as fun focal points.
Based in Orange County, Ellis' 2012 makeovers can include an entire house or just one portion of one room. With a variety of budget-conscious options for clients, her interior design business, Kelli Ellis Interiors, Inc., includes space planning, color schemes, interior architectural detailing, holiday décor, flooring, fabrics, kitchen and bath design, lighting, outdoor space, accessorizing, staging and more.
About Kelli Ellis Interiors
Award-winning celebrity interior designer and design psychology expert Kelli Ellis is owner and lead designer of Kelli Ellis Interiors, Inc. Ellis has a bachelor's degree in Communications from Cal State Fullerton, a law school background and a certification from the Interior Design Institute. She has appeared on TLC's "Clean Sweep," HGTV's "Takeover My Makeover" and Bravo's "Real Housewives of Orange County," where she helped fan-favorite Jeana Keough turn her house in her dream haven. She is also spokesperson for the Society of American Florists. Kelli runs her Orange County interior design firm with her husband, John Spencer Ellis. For more information, please visit
http://www.kelliellis.com
###