L.O.I.S Kick Starts 2012 with Financial Focus Series
Five Business Experts to Speak on Credit Clean-up, Real Estate Marketing Magic, Total Domination Lead Generation, Getting the "Yes" you need and Judgment and Lien Properties: Webinars launch January on LearnOthersInsideSecrets.com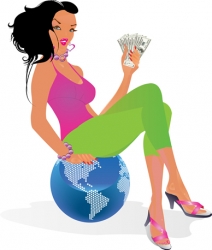 Lee's Summit, MO, December 28, 2011 --(
PR.com
)-- Linda Davis, CEO of Learn Others Inside Secrets, LLC gets excited easily about harnessing marketing strategies for new entrepreneurs in the Real Estate Investment field.
"I'm excited to launch our investors and business website by signing on five very influential and important speakers in the Real Estate Investment and Marketing world," Davis said. These marketing and entrepreneurial experts will be featured on the L.O.I.S. website's Financial Focus Series this January starting the 3rd.
L.O.I.S is the perfect online resource for start up entrepreneurs, real estate investors, real estate agents, and those looking to start their investing business for the first time.
"New and existing investors and business owners continue to struggle with staying on top of new laws and the latest investing strategies in this economy. These successful strategies provided in the webinars are designed to help them get their businesses running and to continue growth," Davis said. Davis says more home business startups will grow in 2012 and she wants to be a part of that business expansion.
To help spur that growth, the Kick Start 2012 Financial Focused Series features these speakers:
· Paul Finck will offer a motivational webinar series on Sales, Negotiations, and Influencing Strategies for a "Yes" to your promotion.
· Kathy Kennebrook explains Real Estate Marketing Magic: How to locate more deals in just a couple of weeks than you will be able to process in a year.
· Jeremy Roberts of the Roberts Credit Group will show webinar viewers how to start getting their credit cleaned up for 2012 and beyond.
· Mike Warren teaches start up entrepreneurs how to make a consistent profit from residential and commercial property judgments and liens without spending your money.
· Sam Bell unveils the secrets of Internet Domination. If you have your business, if you have your goals set, Bell will teach you how to get noticed with lead generation and blaze ahead of the competition.
Davis said she invited this specific team of business experts to help her clients understand successful business strategies and what they can do in 2012 to increase their residual income, start investing, and know how to market and stay mentally focused throughout the year. She is most excited about tapping into marketing guru Kennebrook:
"Kathy Kennebrook gave an awesome webinar and I can't wait to play it," said Davis, "If you haven't heard of Kathy, trust me you don't want to miss (her talk) this coming January."
The webinars on LearnOthersInsideSecrets.com are designed to view at leisure while instilling an educational message. Davis says she only enlists leading experts in their specific fields to provide quality information to her viewers. For this reason, L.O.I.S. is set apart from other marketing and real estate investing websites that offer rehashed or stale marketing tools.
L.O.I.S. is designed to be utilized as an educational, as well as, a casual tool to gain business and marketing expertise. For these reasons, Davis strongly encourages new entrepreneurs and Real Estate Investors to join LearnOthersInsideSecrets.com's Financial Focus Series this January.
###
Contact
Learn Others Inside Secrets, LLC
Linda Davis
816-272-6472
www.learnothersinsidesecrets.com

Contact