Songs for Horse Lovers ... CD by Northwest Singer-Songwriter
Through horses and music, Laurie Lee Lewis found medicine to heal from a brain injury... "ears ringing and all!"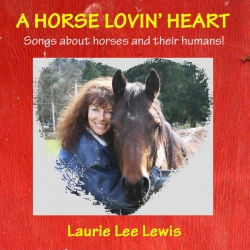 Deming, WA, January 05, 2012 --(
PR.com
)-- Laurie Lee Lewis has been writing and singing songs her whole life, producing 8 CDs (mostly country and spiritual music) and has raised money for charities via CD sales. Lewis has also been around horses her whole life. She knows well the full circle from foals being born, the first pony, gaming, rodeo, trails and training, to the inevitable saying goodbye to your best friend - as the vet does their part.
A Horse Lovin' Heart is the first half of a 24-song project that came to Lewis as "healing medicine" after suffering a concussion, March 2011. The injury left Lewis with walking, talking and seizure issues for most of the year.
During the healing time, having doctors seriously warning Lewis not to ride horses or any type of percussion activity, Lewis began writing songs all about her equine love. What started as a few songs resulted in two full CDs. With the second CD "Giddy-up" projected for late Spring.
The brain injury left Lewis with a loud, high-pitch ringing in her ears. Tinnitus. Frustrated and nearly giving up on the project due to the ringing, a "window of silence" opened up in November allowing her to finish recording and mixing the songs.
"I initially wrote these songs for me, but so many of them touched on the universal love of horses, whether you owned one or not, so I decided to make them available for others, ears ringing and all!"
Lewis plans to use her new projects to help raise funding and advocate support for two non-profts, an equine rescue and equine riding therapy, both in Washington State.
Lewis has posted all the songs to her new CD on her website at www.ahorselovinheart.com
###
Contact
Under The Rainbow Creations
Laurie Lee Lewis
360-904-3872
www.ahorselovinheart.com
Please email Laurie for additional photos.

Contact
Multimedia
12-original songs written by Laurie Lee Lewis, all about the fever and passion of the horse lover! 7 minute sample of all 12 songs.