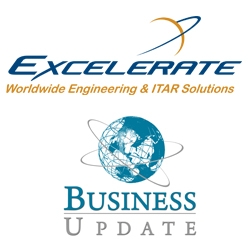 Madison, AL, January 06, 2012 --(
PR.com
)-- Excelerate, Inc. is excited to announce that they will be featured in an upcoming episode of Business Update.
Excelerate's message is simple: Conducting defense and aerospace business internationally is the future; you just have to do it correctly.
This particular episode of Business Update will focus on the importance of American defense contractors engaging the international defense industry.
Mike Doubleday, President & CEO said, "Excelerate's focus is in conducting safe and effective defense and aerospace business in the international marketplace by ensuring ITAR and EAR compliance, pursuing business opportunities worldwide and by providing viable and cost effective system and engineering solutions for our domestic and international customers."
"Excelerate plays a vital role in this new global economy," said Vince Moss, producer for the series. "It is now more important than ever for American defense manufacturers to 'go global'."
About Business Update:
Business Update is a corporate-America type series covering the world of business, finance and technology. From Main Street to Wall Street, our award-winning producers take an in-depth look into some of the hottest topics and current trends impacting our society.
For more information visit: www.dmgproductions.org or call (866) 496-4065.
About Excelerate, Inc.:
Excelerate's focus is in conducting defense and aerospace business in the global marketplace. We are a technically based company with expertise in the regulations, business practices and processes and engineering to successfully and safely conduct high technology business worldwide. Our domestic and foreign customers come to us for ITAR and EAR compliance and support; complex engineering system integration, development and solutions; and worldwide business practices, customs and operations support.
For more information, visit: www.Excelerate-Inc.com or call (256) 325-4050.
Media Contact:
Laura Patrick
Laura@Excelerate-Inc.com
(256) 325-4050 x112
###