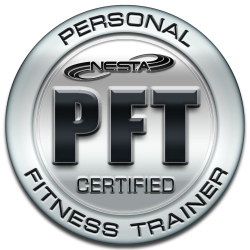 Rancho Santa Margarita, CA, January 18, 2012 --(
PR.com
)-- With jobs for personal fitness trainers expected to grow "much faster than average," according to the latest Occupational Outlook Handbook, the National Exercise & Sports Trainers Association (NESTA) has launched a brand-new website for anyone interested in pursuing a personal training career and certification.
Available online at http://www.nestapft.com/, the new site offers details on the industry's only four-year accredited certification as well as the most visual personal training education. The 100 percent online and self-paced certification program includes 3D biomechanics animations, which make it easier to learn about anatomy, as well as detailed science with easy-to-understand practical applications. In addition, the NESTA Personal Fitness Trainer website provides information on launching, marketing and running a successful personal training business, including tools and tactics that help put the online training into action.
"With the growth in the personal fitness trainer industry and the increasing numbers of people who are becoming interested in this amazing career, we wanted to enhance the information we provided regarding getting certified," said John Spencer Ellis, founder of NESTA and John Spencer Ellis Enterprises, a fitness and personal development solutions company. "With this new site, personal trainers and aspiring trainers can find everything they need in one place, making it that much easier to take the next step on their successful fitness career path."
In addition to the certification and accreditation information, the NESTA Personal Fitness Trainer site also offers information on getting hired in the personal training industry, NESTA membership and membership discounts, success stories, continuing education and more.
About the National Exercise & Sports Trainers Association
Since 1992, the National Exercise & Sports Trainers Association (NESTA) has been a leader in innovative solutions for fitness, nutrition and wellness professionals, as well as club owners. Founded by John Spencer Ellis, NESTA now has more than 55,000 members in 55 countries, and it is one of the largest fitness associations in the world, as well as the fastest growing association of its kind in the United States. For more information on the NESTA Personal Fitness Trainer certification program, please visit
http://www.nestapft.com/
###