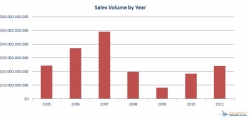 New York, NY, January 20, 2012 --(
PR.com
)-- With over $24 billion in sales, the
commercial real estate market
in New York City saw a sharp recovery in 2011 from its recessionary lows, up 32% over 2010, and up a staggering 193% over 2009, according to an analysis released by PropertyShark.
The market had a solid performance throughout the year, with its peak in the third quarter of 2011, when it recorded $9.37 billion in sales, a level not seen since 2007.
The rebound of the commercial sector was driven by large transactions, of $5 million and above, which accounted for 86%, or $20.8 billion, of all real estate commercial transactions recorded in the City. The 10 largest transactions accounted for $5.76 billion in volume alone, bringing the Y-o-Y volume increase to 35%, and up 245% over 2009, for the $5 million and over category.
Moreover, the median sale price for the segment has reached a 7-year peak, and arguably an all-time high. The median sale price for the category was $11,719,595, up 24% over 2010, and up 19% from 2007, when the market reached its peak with almost $45 billion in sales.
The office market, which makes up more than half of all commercial real estate sales in New York City, has seen $13.4 billion in sales, up 38% Y-o-Y, clearly outperforming the multifamily sector. The later saw $6.9 billion in sales, a 'modest' 14% Y-o-Y compared to the office sector.
For a list of the
largest real estate commercial sales of 2011
please visit our corporate blog, at http://www.propertyshark.com/Real-Estate-Reports.
###
About PropertyShark
A wholly-owned subsidiary of Yardi Systems Inc, PropertyShark is a NY-based
property search
and foreclosure listings website. PropertyShark.com, which was named one of TIME.com's "Top 50 Websites of 2009″, provides real estate professionals, investors and home buyers with data and tools on all aspects of property, including building details, ownership information, recent sales prices, property values and comparable sales, sophisticated maps, for sale and for lease listings, foreclosures and pre-foreclosures, mailing lists, photos, and more. PropertyShark.com was founded by Matthew Haines in 2003. For more information or a free basic account, visit www.PropertyShark.com.