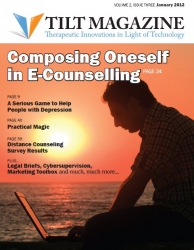 Highlands, NJ, January 31, 2012 --(
PR.com
)-- eCrypt Technologies became verified by the Online Therapy Institute, as the first step of developing a partnership with the organization, to show support for the Institute's advocacy of the use of encryption technology, and to gain exposure within the community. Privacy and confidentiality are paramount to the members of OTI and their clients, and encryption is the only technological means of ensuring both.
As a way of inaugurating the relationship with OTI, co-founder Kasia Zukowska has contributed an article entitled,
Practical Magic
, which demystifies encryption to the Institute's quarterly publication, TILT Magazine - Therapeutic Innovations in Light of Technology. eCrypt has also commenced an Affinity Program for OTI members to support them in incorporating encryption technology into their practices. As part of the program, members are tendered free eCrypt Me accounts for their clients.
"We are delighted to welcome eCrypt into our group of ethically verified organizations, and look forward to a long and fruitful relationship with them," says Dr. Kate Anthony, co-founder of the Online Therapy Institute.
"eCrypt Me was designed to enable everyone, regardless of tech savvy, to embrace information security into their personal and work lives." says Brad Lever, eCrypt Technologies CEO. "Helping professionals have far more important things to do than worry about configuring security technologies. With eCrypt Me they are able to focus on their clients, with the piece of mind that their interactions are private and confidential. We are very happy that we can contribute in this way, and excited about the potential of this relationship."
About eCrypt
eCrypt Technologies
, Inc. (OTCBB:ECRY) is an information security firm providing email encryption and secure file storage using the strongest encryption algorithms available to prevent the theft of data during transmission and storage in the cloud.
eCrypt Me
is a simple and configuration free web-based email encryption and secure filing system, which helps professionals maintain compliance with regulations such as HIPAA in the US and the Data Protection Act in the UK.
###