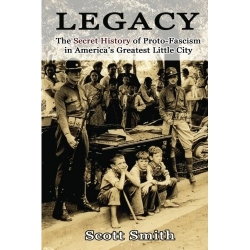 Atlanta, GA, February 02, 2012 --(
PR.com
)-- Scott Smith, author of "Legacy: The Secret History of Proto-Fascism in America's Greatest Little City," will speak about his book at the Humanists of Georgia meeting on Sunday, Feb. 19. The meeting will be held at Atlanta Freethought Hall, 4775 N. Church Lane SE, Smyra, GA, at 12:30 p.m.
Published in October 2011, "Legacy" revolves around a 1935 Callaway Mills strike that resulted in martial law in LaGrange, GA.
"The book started out as a paper on institutional discrimination for a social psychology class," said Smith, who is working on his Master's degree in Psychology at the University of West Georgia.
"I wrote about my experiences at the racially segregated Callaway Educational Association (CEA) when I was growing up in LaGrange in the 1980s, and my classmates couldn't believe that such blatant discrimination still existed at that time," Smith said.
Peers and professors encouraged Smith to conduct more research on the subject. He interviewed dozens of local residents and sifted through hundreds of old newspaper articles and historical documents.
"What I found was shocking," he said. "During the strike of 1935, Georgia National Guardsmen killed at least one man while they were evicting strikers from mill-owned homes, and Nazi newspapers in Germany applauded Georgia's use of state troops for strike busting, calling it a sign of fascism's coming global triumph.
"After that, it seemed like people were just too afraid to stand up to Callaway corporate power," Smith continued. "And that's a big reason why LaGrange still had a racially segregated swimming pool, library, and recreation center up until 1992."
"Legacy" features interviews with a former director of the CEA, the current president of the Callaway Foundation, and several mill workers who participated in the strike, as well as a critique of what Smith calls "the corporate threat to democracy in LaGrange."
The book is available at Amazon.com. For more information, visit
www.LegacyLaGrange.com
.
###