Celebrity Designer Kelli Ellis Named New eHow Interior Design Expert
Celebrity designer Kelli Ellis was recently selected as an interior design expert for eHow.com. Ellis will share her design expertise through videos on the growing online network.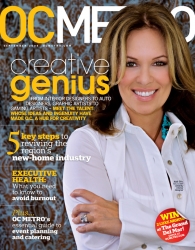 Rancho Santa Margarita, CA, March 06, 2012 --(
PR.com
)-- Now offering her world-class design advice across the world, Kelli Ellis was recently named an interior design expert for eHow, and will share free videos with top design tips on the site.
eHow.com is a leading online destination for practical advice on a variety of topics, including home, money, healthy, family and style. The site is host to how-to articles and videos that help people accomplish tasks, acquire new information and share expertise.
"I enjoy working with my clients in the Orange County area, and now this gives me the opportunity to share design tips and secrets with virtual clients throughout the world," Ellis said. "I really appreciate all of the expertise that eHow experts offer, and I look forward to contributing some fun, fresh and affordable interior design tips through my new video series on the site."
Ellis' current eHow interior design videos include ideas for home makeovers, how to mix antique and traditional furniture, how to light a dark kitchen, how to dress up a boring chair, how to rearrange furniture to make a living room look larger, how to select a dining room furniture set, how to arrange furniture in the family room and more.
Based in Orange County, Calif., Ellis works in the fields of design psychology coaching and interior design. With a variety of budget-conscious options for clients, her interior design business, Kelli Ellis Interiors, Inc., includes space planning, color schemes, interior architectural detailing, holiday décor, flooring, fabrics, kitchen and bath design, lighting, outdoor space, accessorizing, staging and more.
About Kelli Ellis
Award-winning celebrity interior designer and design psychology expert Kelli Ellis is the lead designer of Kelli Ellis Interiors, Inc. which she owns with her husband John Spencer Ellis. Kelli has a bachelor's degree in Communications from Cal State Fullerton, a law school background and a certification from the Interior Design Institute. She has appeared on TLC's "Clean Sweep," HGTV's "Takeover My Makeover" and Bravo's "Real Housewives of Orange County," where she helped fan-favorite Jeana Keough turn her house in her dream haven. She is also spokesperson for the Society of American Florists. For more information on the eHow.com expert video posts, please visit
http://www.kelliellis.com/
###
Contact
John Spencer Ellis
949-683-3986
http://www.kelliellis.com

Contact