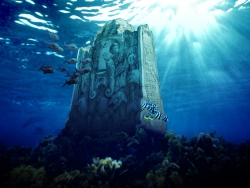 Los Angeles, CA, February 09, 2012 --(
PR.com
)-- Reef Worlds represents the cutting edge of resort development, designing entire worlds underwater that offer a safe, accessible, and exciting immersive discovery experience for resort and private island clients worldwide.
Reef World sites consist of iconic man-made structures carefully placed in underwater areas that hold little value to resort guests. It is estimated that globally resorts currently own over 200,000 square miles of unused or underused waterfront space and Reef Worlds are enhancing those spaces one iconic development at a time.
"Reef Worlds is seeking to shake up the paradigms of how people interact with the undersea realm, one unique and iconic dive and snorkel site at a time. Every once in a while along comes a concept that fundamentally rewrites the way people perceive and experience a beachfront hotel or private island experience. At Reef Worlds we're in the business of creating lasting vacation memories," said Richard Everson, Director of Reef Worlds.
Tulu'um, Copan, Xian, Fiji, Angkor Wat and the Cook Islands all have unmistakable regional design flavor that attract tourists seeking to learn more about the culture and the ancient peoples who created these unique places.
The Reef Worlds design team asked, "What if you could synthesize these instantly recognizable design elements and build your own unique underwater interactive site. What if you could create your own back story to this undersea world and brand it?"
Today's tourism client is savvy. Those over 50 have traveled widely and will recognize Reef World design elements almost instantly; those younger will be attracted to the exploration of the site and the keen sense of discovery which is, at its core, the reason for placing Reef Worlds underwater.
Additionally Reef World design teams draw from blockbuster films like Avatar, Pirates of the Caribbean, and Lord of the Rings for subtle details and elements that have enjoyed a wide audience appreciation.
These elements are what make each individual Reef World completely unique.
Reef World structures are designed to attract divers, snorkelers, and swimmers to investigate and explore.
Reef World structures are ph neutral and made from native rock substrate creating an instant habitat for soft corals, fish, and ocean wildlife following in the footsteps of Reef Worlds prime directive for the oceans, "do no harm."
True exploration is something that few get to experience in a lifetime, but it is the exploration of the unusual, the iconic, and the unique that create lasting vacation memories.
About Reef Worlds
At the intersection of art and science is Reef Worlds. When a unique team of art designers, dive site developers, and reef ecologists got together they dreamt of a better way to experience the undersea realm.
The result was Reef Worlds.
For more information about Reef Worlds, visit their website www.reefworlds.com or call 323.863.5085 or send an email to developer@reefworlds.com
###