Pet Industry's Purple Pebble Joins Fashion Week's Code Purple Event February 16th
Purple Pebble Supplies Mood Designer Fabric's Celebrity Canine with Bedding and Toys at Code Purple Event; Offers Product Discounts to Event Attendees and Percentage of Sales Contribution to Code Purple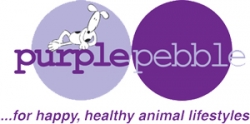 Waldwick, NJ, February 16, 2012 --(
PR.com
)-- Purple Pebble,
www.purplepebble.com
, which supports happy, healthy animal lifestyles with its pet bedding, LEEDZ®, and toys, takes a giant step forward on February 16th. Joining forces with Code Purple at its Fashion Week closing event on the battleship Intrepid off Manhattan, it now supports happy, healthy lifestyles for people around the world, as well.
Moskeeto Armor™ Hood-E
Code Purple, through the Touch the World organization, will begin global distribution to people in malaria-infested countries of ING Activewear's Moskeeto Armor™ hood-e made of mosquito-resistant fabric. "I am thrilled to participate in this effort to 'cover, protect, and save lives' through Code Purple," explains Purple Pebble owner, Heather Groll De Vaul.
Purple Pebble will provide
· Pet bedding and "ravioli" toys to enable Swatch, Mood Design Fabrics' run-of-the-store famous Boston terrier and his canine date to enjoy the February 16th event in comfort (Mood Designer Fabrics, Manhattan, provider of fabric for Code Purple)
· Discount offerings to Code Purple attendees
· Percentage of sales contribution to Code Purple
Purple Pebble is an on-line purveyor of American-made, high-quality pet bedding, LEEDZ® and toys that promote happy, healthy animal lifestyles. It serves pet care service establishments and independent retailers as well as individuals. www.purplepebble.com.
Contact:
Purple Pebble
Heather Groll De Vaul (201) 444-7439
heather@purplepebble.com
sales@purplepebble.com
###
Contact
Purple Pebble
Heather Groll De Vaul
201-444-7439
www.purplepebble.com
sales@purplepebble.com

Contact