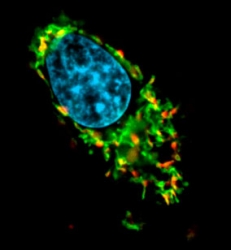 Goettingen, Germany, February 24, 2012 --(
PR.com
)-- Light and fluorescence microscopy is an integral part of routine diagnostics and fundamental medical and biological research. In order to obtain accurate results from imaging applications, it is essential to maximize the potential of the optical system.
MoBiTec offers a collection of tools for microscopy and live cell imaging, cell culture on microscope slides, single investigation or parallel microscopy or even High Content Analysis or High Content Screening: They supply suitable labware to support your high resolution microscopy and imaging. In addition they offer screening plates for UV-spectroscopy. All cell culture products are equipped with advanced surface properties to support adhesion, distribution and spreading of the cells.
The Imaging Dish CG products are their new entry solution for high resolution microscopy of living and fixed cells. The bottom of the 35 mm Petri dishes is made of cover glass. The central cover glass area has a diameter of 18 mm. The level of the cover glass is 2 mm lower than the basement level of the surrounding polystyrene dish. Due to this feature it is possible to concentrate the cells during the seeding on the glass surface. The Imaging Dishes are also available with excimer-laser engraved microgrid that supports localization and re-localization of the Region Of Interest (ROI), even if no computer assisted motor stage is available.
Imaging Plates CG are black multiwell plates compliant to the SBS (Society for Biomolecular Screening) standard-format with cover glass bottoms made from borosilicate glass. The plate bodies are made from polystyrene and tightly bonded to the cover glass. Imaging Plates CG can be used for high resolution Live Cell Imaging. In addition, direct fixation and staining within the plates is possible (formaldehyde, glutaraldehyde, alcohols and acetone can be used). Acetone should not be applied for more than 10 minutes because the plate body is made from polystyrene and subsequent to the material reaction the cover glass may detach. Imaging Plates CG can be used between -20 °C and +50 °C. Due to the cover glass bottom the use of high resolution immersion objectives with high numerical aperture is possible. Water, oil and glycerol can be used as immersion media. Imaging Plates CG work perfectly well for High Content Screening, e.g. in combination with Cellomics ArrayScan instrument.
The FC products are equipped with a bottom made of high performance fluorocarbon film. The physical properties of the material provide excellent optical performance (UV-A and UV-B light transparency) and very high gas transfer rates. Therefore, especially cell physiological experiments with exact control of the oxygen partial pressure in the cellular microenvironment are enabled.
Imaging Chamber CG products are chambered cell culture vessels with a bottom made from 170 µm cover glass. Chambers and lids are made from high performance polymers and are sealed against the glass bottoms by biological inert silicone adhesive. At the end of the experiments the glasses can be detached from the polymer chambers and used for further processing or archiving. It is available in 1 well, 2 well, 4 well and 8 well format.
iMoBiTec ImmunoSelect® Adhesion Slides are developed for microscopic use, where precious and only poorly available cellular material should be efficiently immobilized. In contrast to commonly coated slides the ImmunoSelect® Adhesion Slides stop cell loss even at harsh incubation procedures. The ImmunoSelect® adhesion surface allows a fast and highly efficient immobilization of the cells and helps to reduce cellular material and reagents. The extremely fast binding of the cellular material to the glass surface saves time consuming centrifugation and drying procedures.
For details please see:
http://www.mobitec.de/int/products/bio/10_lab_suppl/index.php?imagacc.html
About MoBiTec GmbH
MoBiTec GmbH (Goettingen, Germany) is a privately held company (founded in 1987) that offers research tools for molecular and cell biology. Products include two- & one-hybrid systems for in vivo detection of molecular interactions, Lambda PS genomic libraries, DNA vectors for cloning and expression, kits for expression and purification of recombinant proteins, cell transfection reagents and cell culture tools, immobilized and soluble enzymes, many products for genomics and proteomics research, numerous antibodies and recombinant proteins, superior fluorescence reagents and kits, affinity chromatography products, as well as general laboratory equipment, e.g. plastic columns for centrifugation or affinity applications. In parallel to its own product lines, MoBiTec distributes products from several international companies in Germany. MoBiTec products are distributed worldwide, in Germany from their home office, in other countries by distributors.
###